Laughing Gull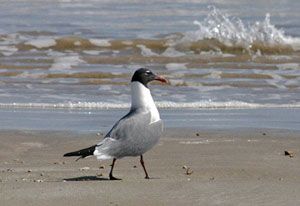 Laughing Gull (adult, breeding plumage)
Leucophaeus atricilla
Family: (Laridae) Gulls, Terns and Allies
Preferred Habitat: Beaches and salt marshes.
Seasonal Occurrence: Abundant throughout the year.
Notes: Laughing Gulls are medium-sized gulls that are gray above and white below. Summer adults have a black head, broken white eye ring, red bill and legs. Winter adults have a white head with pale gray streaking on the back, black bill and legs. Immature birds are browner overall and more subtly patterned than adults; they take 3 years to gain adult plumage.
Laughing gulls are the most common gull species breeding along the Texas coast in summer; 68,000 pairs nest in Texas each year. Colonial nesters, Laughing Gulls nest on the ground on saltmarshes, on islands, and on sandy beaches along the gulf coast. Young are born in June or July and when they are able to fly well, they head to the Pacific Coast of Mexico or Central America. They return to Texas to breed when they are 3 years old.
Laughing Gulls are very vocal birds. Their species name is cachinnans which is Latin for "laughing aloud." Their common call is a loud, descending series of laughing notes, ha-ha-ha-ha-ha.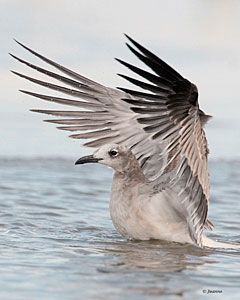 Laughing Gull (adult, winter plumage)
Profile by Jamie Waltenburg: The Laughing Gull is a medium sized gull. They have an average body length of 15 inches and wingspan that ranges from 39-43 inches. While they have a variety of sounds, their name comes from the laugh-like courtship calls that can be heard along most coasts that border the Gulf or Atlantic.
When they sport their breeding plumage, their entire heads are coal black except the white circles around the eye and a reddish beak. When not in breeding plumage they are mostly white. The portions that can be used to identify them in non-breeding plumage are the small white dots on their primary feathers as well as some black smudges behind the eye and a heather grey back. Laughing Gulls are coastal birds working the shore for food. They can also be seen hovering to catch small insects. They eat a wide variety of foods including crab, refuse, fish, crab eggs, as well as other birds eggs.
 
Both male and female build the nest, with the female intertwining it with the live vegetation that surrounds it so that, in the event of a flood, it will not float away. If a flood does occur, the parents will continue adding material to the nest until the eggs are above the flood line. In addition, to ensure that all three eggs in a typical brood will hatch, the parents will remove broken eggshells from the nest.
Cornell Lab of Ornithology