Horned Lark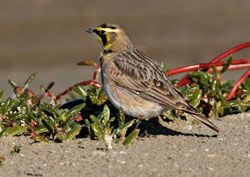 Eremophila alpestris
Family: (Alaudidae) Larks
Preferred Habitat: Open, barren ground
Seasonal Occurrence: Year-round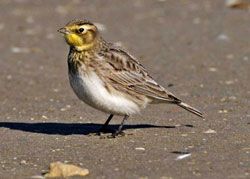 Profile by Rachel Myers: The Horned Lark is a small brown songbird with a long body and neck, small bill, and upright posture. Males have yellow faces with a distinct black mask that make them easy to identify. Males also have two tiny head feathers that can be raised or lowered. When raised, these head feathers look like horns, giving the "Horned" Lark its namesake. Females are drabber and lack the male's black mask, with a slight yellow wash on the throat and a brown breast band. Males often sing in flight, either as a part of courtship or territorial defense. Their song is a high-pitched, thin series of "tinkling" notes.
Horned Larks prefer bare, dry ground with short, sparse vegetation. Common habitats include prairies, tundra, beaches, deserts, dunes, and grazed pastures. They forage on the ground, eating a variety of insects and seeds. Their young are mostly fed insects to ensure they have the protein they need to grow. Insect prey are mostly grasshoppers, beetles, and caterpillars. In farm fields they may eat sprouting crop seedlings.
Horned Larks usually nest on the ground, where the female finds small natural depressions to start building the nest. Females receive no help from their mates in the nest building process, which involves using her bill to loosen the soil to dig a cavity. This process can take a couple of days to complete. The Horned Lark's nest is a woven basket made of grasses and other plant material. The female lays 2 to 5 dark eggs that will take 11 to 12 days to hatch.
Horned Larks are widespread across the United States and have several distinct sub-populations. They also inhabit an extensive elevation range, from sea level to an altitude of 13,000 feet. They can be found throughout Texas, particularly in the drier open country of West Texas and the Panhandle. Most populations are migratory, though the population found on the Coastal Plain from Jefferson County to northern Tamaulipas is resident and can be found year-round at Bolivar Flats Shorebird Sanctuary.
Cornell Lab of Ornithology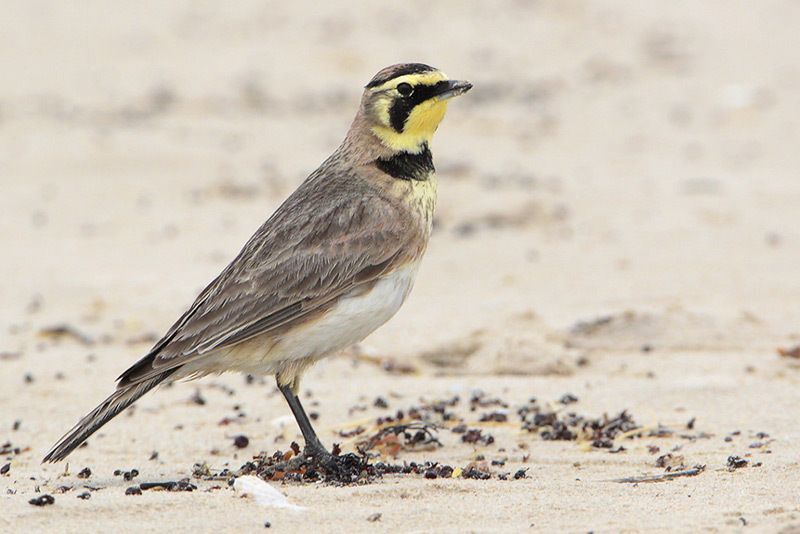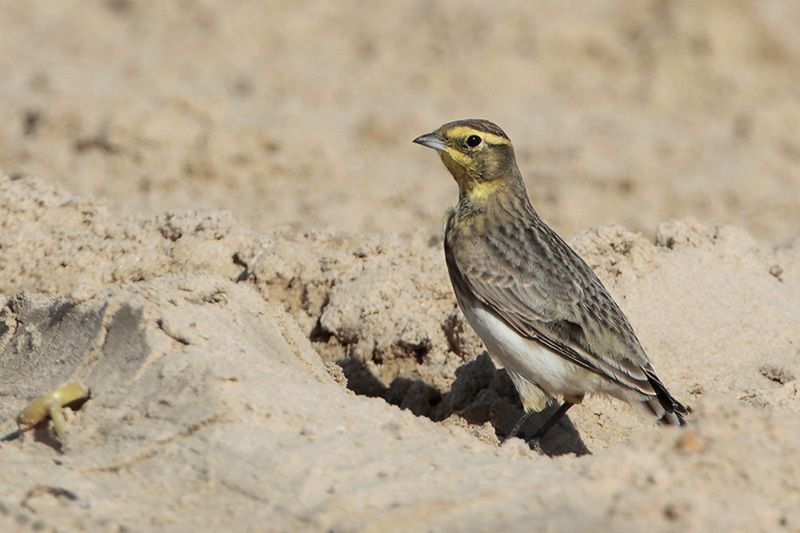 Horned Lark (see visible "horns")