Hooded Merganser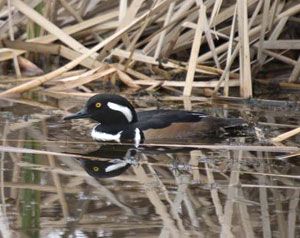 Lophodytes cucullatus
Family: (Anatidae) Ducks, Geese, and Swans
Preferred Habitat: Wooded lakes and ponds; occasionally coastal marshes.
Seasonal Occurrence: Uncommon in winter. 
Profile by Glenn Olsen: The male Hooded Merganser is a strikingly handsome and distinctive member of the duck family. The moniker of "hooded" seems a bit of a stretch to me since there is no hood similar to other species with the name hooded. The neck and head are black with a large white patch on the side of the head behind the golden-yellow eye. To me, this does not look like a hood. The feathers of the head form a crest that the bird can raise like a fan. When it does, the broadened white patch makes the head appear disproportionately large and oblong. Perhaps this is what hooded refers to.
When the crest is lowered, the feathers are compressed, causing the white to look like a long narrow patch behind the eye. With a black bill, black-and-white head, and a golden-yellow eye, this bird will turn heads. The under parts are white and the upper back is blackish with cinnamon sides. This is the smallest of our three mergansers and not very common. All mergansers have thin non-duck-like bills. Females are mottled soft gray with cinnamon tones on the head and are subtly attractive.
The primary breeding range of Hooded Mergansers is the eastern half of North America and the Pacific Northwest where they prefer forested wetlands. They may also nest in treeless wetlands where people have put up nest boxes. They are most common in forests around the Great Lakes. Their habitat ranges from spruce and fir forests in the Northwest to pine-hardwood forest and cottonwood riparian forest in the Midwest and oak-cypress-tupelo forest in the Southeast.
Along the Upper Texas Coast, Hooded Mergansers can be found in freshwater ponds, lakes, rivers, marshes, and protected brackish water bays from November to early March. Like some ducks, they feed by diving underwater and consuming small fish, crayfish, and aquatic insects.
I enjoy seeing the wonderful species diversity in our colorful, winter waterfowl. The weather is often very comfortable with few mosquitoes and a glorious time to be outdoors. So visit any of our marshes, bays, or rivers this winter to see if you can find one of these uncommon but beautiful ducks.
Profile by Steven Garcia: The Hooded Merganser is a common sight among ponds and rivers throughout the US. This small duck is the smallest of the three merganser species that occur in North America, measuring in at a length of 15.8-19.3 inches and weighing between 16.0-31.0 oz. Named after their large collapsible crest, stately Hooded Merganser males have a large white crest embellished with black, rich chestnut flanks, and snow white breast. Females display a much less flamboyant look, blending gray and brown tones with a mellow cinnamon crest.
Hooded Mergansers are specialized divers, hunting for fish, crayfish, and other aquatic foods. Their long thin serrated bills and ability to change the refractive properties of their eyes allow them to see and grip their prey with ease. Additionally, Hooded Mergansers evolved a transparent extra eyelid, referred to as a nictitating membrane which covers the eye during dives, acting as protective googles. Hooded Merganser ducklings are extremely precocial, meaning that they are born relatively mature and mobile. In fact, Hooded Merganser ducklings will leave their nest cavities within 24 hours of hatching. Sometimes being led by their mother on a half mile or more march to the nearest water body.
In general, Hooded Mergansers breed in southeastern Alaska, central British Columbia and southwestern Alberta to southwestern Oregon, central Idaho and northwestern Montana; and from central Saskatchewan to Nova Scotia, south to Kansas, northern Louisiana and northern Georgia. Most of the population migrate south-southwest to their overwintering grounds, where a majority spend their winter along the Mississippi flyway. Alternatively, some migrate north to spend winters within the great lakes and southern Canada. The overwintering Hooded Merganser can be spotted everywhere in Texas with exception to the mountain and basins region.
Cornell Lab of Ornithology