Greater White-fronted Goose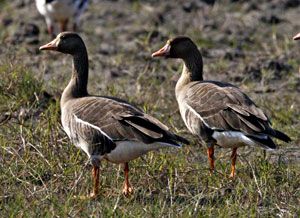 Greater White-fronted Geese
Anser albifrons
Family: (Anatidae) Ducks, Geese, and Swans
Preferred Habitat: Fields and marshes.
Seasonal Occurrence: Very common in winter.
Notes by Susan Billetdeaux: Greater White-fronted Geese are often called "Specklebellies" because of their splotchy underparts. "White-fronted" refers to the white band at the base of the bill. Although Greater White-fronted Geese can be abundant, they are not usually as common as Snow Geese. The Cornell Lab of Ornithology reports that numbers of this species are increasing. It also states that pair bonds last longer than with most other geese. Sometimes parent and sibling relationships continue throughout their lives.
Profile by Phoebe Honscheid: Nothing quite screams January like the Greater White-fronted Goose. Perhaps not, but they do spend the winter season on the Upper Texas Coast and they are rather noisy. They start arriving from their tundra breeding grounds in October and leave again around March and April.
Greater White-fronted Geese are smaller than Canada Geese and have bright orange legs. They are brownish-gray with white undertail coverts, black barring on their belly, and white feathers around their pink bill. In fact, the scientific name albifrons means "white forehead" in Latin. However, juveniles lack this namesake white front as well as the black barring. As they are often seen flying overhead, it is helpful to remember a few in-flight field marks. They have a pale gray upper wing, a white tail tip, and a black tail and rump with a distinctive white "U" shape. Greater White-fronted Geese are very similar in appearance to a Eurasian species, the Lesser White-fronted Goose, which is smaller and has a yellow eye ring.
These geese are found in both North America and Europe. The North American variety, which are slightly darker, migrate from northern Canada and Greenland all the way down to Central Mexico. They prefer open habitats, such as farmlands, marshes, prairies, and ponds, where they often associate with other species of goose. While swimming, Greater White-fronted Geese forage on vegetation in a similar manner as dabbling ducks.
Like other geese, they fly in large, noisy flocks in a "V" formation. They also form strong pair and family bonds. The young usually stay with their parents for at least a year and help defend the new nest before they begin to breed themselves.
Cornell Lab of Ornithology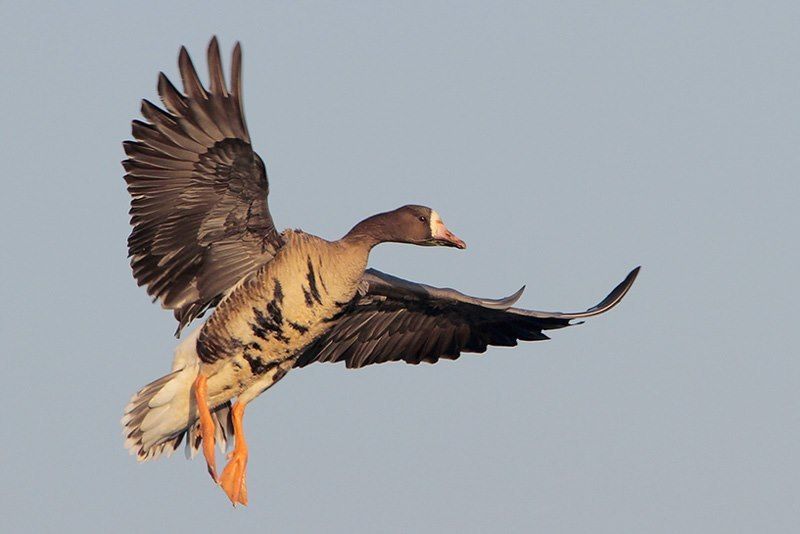 Greater White-fronted Goose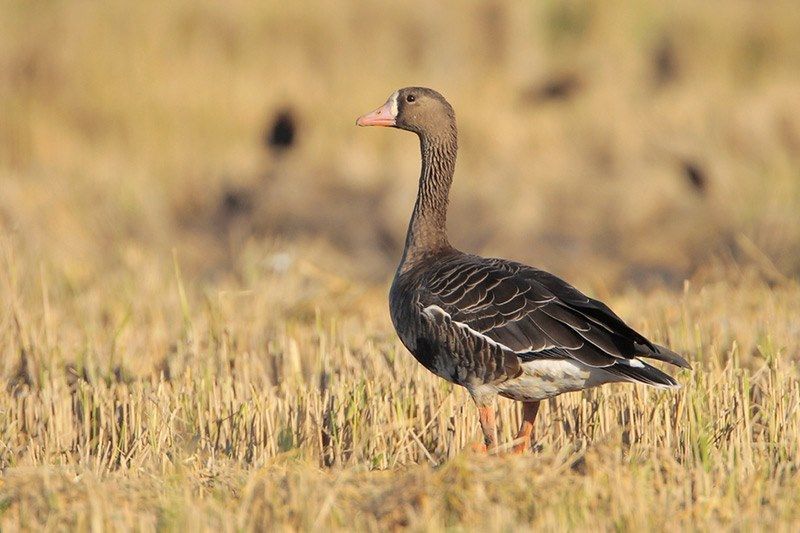 Greater White-fronted Goose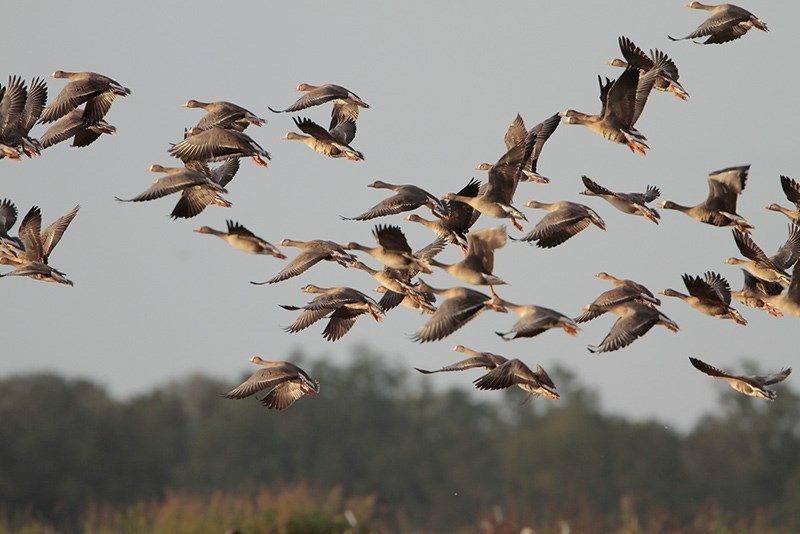 Greater White-fronted Geese