Franklin's Gull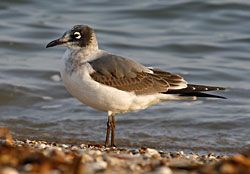 Franklin's Gull (first winter plumage)
Leucophaeus pipixcan
Family: (Laridae) Gulls, Terns and Allies
Preferred Habitat: Coastal, rivers, and lakes.
Seasonal Occurrence: Uncommon spring and fall
Notes: Franklin's Gull is never very common in our area, although occasionally large flocks of Franklin's Gulls are seen in migration. It breeds in northern prairies and winters on the west coast of South America. In breeding plumage it looks quite similar to the Laughing Gull, but is smaller and has a proportionately smaller bill. In the nineteenth century it was first named "Franklin's Rosy Gull" for its slightly rose-colored breast and belly. The amount of pink color is highly variable and often absent. It was nicknamed "Prairie Dove" in the nineteenth century.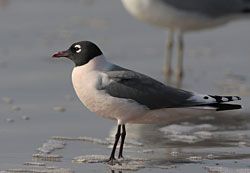 Franklin's Gull (breeding plumage)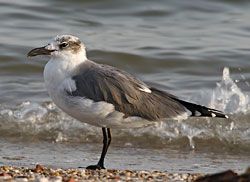 Franklin's Gull (adult nonbreeding plumage)