Fox Sparrow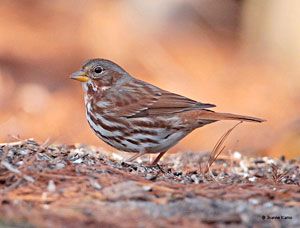 Passerella iliaca
Family: (Passerellidae) New World Sparrows
Preferred Habitat: Dense undergrowth.
Seasonal Occurrence: Fairly common in winter.
Profile by Will McDaniel: The Fox Sparrow is a particularly large and bulky sparrow endemic to North America named for the reddish color of its blotchy plumage, interspersed with patches of gray and brown on the upperparts with reddish spots and streaks on the white underparts. Preferring the shelter of dense thickets and bushes, Fox Sparrows mostly forage on the ground, where they perform a distinctive hopping kick to turn over soil and leaf litter in their search for seeds and insects. Though relatively uncommon throughout much of their range, these birds can be seen poking about underneath bird feeders near low-lying vegetation, dashing back to cover at the first sign of danger.
Fox Sparrows prefer to nest in remote areas in the Canadian taiga and Pacific Northwest or high in the Rocky Mountains, where early naturalists made note of the melodious choruses of breeding males defending their territory. They migrate overnight to Texas and the southern United States for the winter, where their secretive habits make sightings rather special for birders.
Cornell Lab of Ornithology