Double-crested Cormorant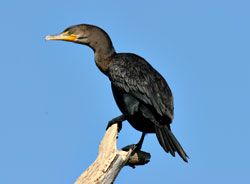 Phalacrocorax auritus
Family:  (Phalacrocoracidae) Cormorants
Preferred Habitat: Beaches, lakes and rivers.
Seasonal Occurrence: Abundant winter and spring. Common in the fall.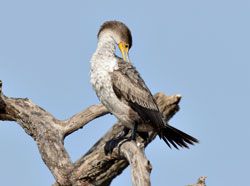 Double-crested Cormorant (juvenile)
Profile by Lark Heston: The Double-crested Cormorant is a sleek black waterbird with bright blue eyes that is oftentimes confused with the Anhinga due to their snake-like necks and similar body shape. The most distinguishing feature of the cormorant, however, is its sharply hooked bill. An Anhinga's bill, on the other hand, comes to a fine tip rather than a hook. 
Even more difficult to distinguish from the Double-crested Cormorant is the Neotropic Cormorant. The breeding range of the Double-crested is farther north than that of the Neotropic, but their ranges overlap along the Texas and Louisiana portion of the Gulf Coast during winter. One way to tell these two cormorants apart is by looking at the length of their tail relative to the size of their body. Larger overall, the Double-crested Cormorant has a short tail, whereas the Neotropic Cormorant has a long tail compared to its smaller body. A more straightforward technique to identify a Double-crested from a Neotropic is to look at its lore, the area between the eye and the base of the bill. The lore of Double-crested Cormorants is covered in orange facial skin rather than black feathers like the Neotropic Cormorant.
Double-crested Cormorants move gracefully in salt- or freshwater, chasing after schools of fish and aquatic invertebrates. In the air however, they have a bulkier appearance and hold their neck bent while consistently flapping their wings. They will often stand on a branch or perch with their wings outstretched in order to dry off after a dive, and they will rest here for most of the day. 
When Double-crested Cormorants are ready to breed, the male will select a nest site and attract a female, who will be the main constructor of the nest while the male brings materials. Cormorants nest in colonies, which eventually can prove detrimental to the trees they nest on due to the large amount of guano produced throughout the season.
 
Cormorant populations used to be greatly affected by the popularity of hunting and later the widespread use of pesticides such as DDT, which the birds came into contact with through the fish they ate. Thankfully, since the 1970s, the general population of Double-crested Cormorants has been back on the rise and is not in need of great concern. It has even been observed that some colonies have doubled in just a matter of a few years!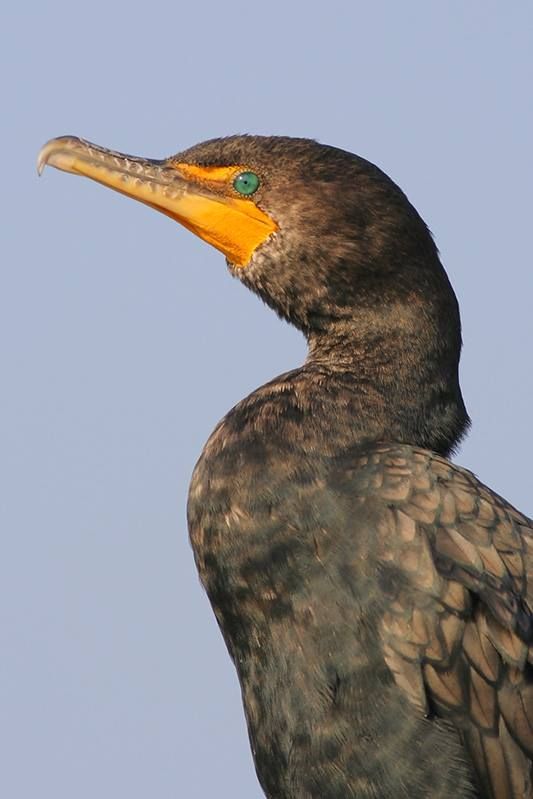 Double-crested Cormorant showing hook at the end of the bill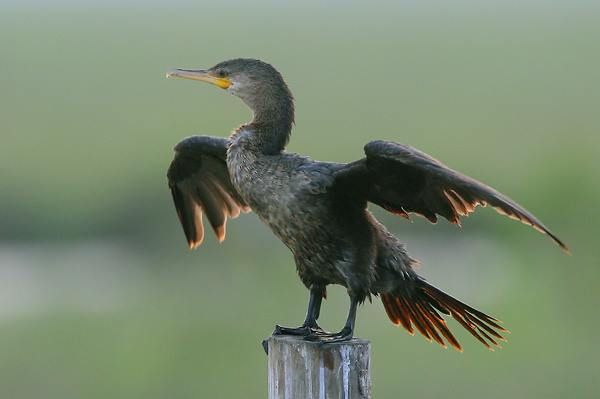 Double-crested Cormorant drying wings