Crested Caracara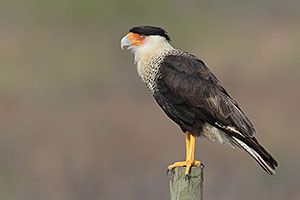 Caracara cheriway
Preferred Habitat: Open habitats - fields and marshes.
Seasonal Occurrence: Throughout the year, but more common in winter. Breeds in our area.
Profile by Glenn Olsen: The Crested Caracara is the only member of the caracara group of birds to reach the United States. Their limited range is only in Texas, Arizona, and Florida. Caracaras are members of a neotropical group with several species ranging from Mexico, into Central America and on to South America.
Although members of the falcon family, caracaras are not typical in any observable respect of "true" falcons. And if field guides move to classification based on DNA, it is probable that caracaras will be removed from the falcon group.
Crested Caracaras are quite handsome and colorful birds. One of the characteristic field marks is the four points of white: namely white in the tail, the tips of each wing, and in the neck with a contrasting blackish body (brownish in immature birds). This makes them readily identifiable if seen well. A large bill and a large, colorful facial skin area that can change color from pale blue-gray, to pinkish-red and on to bright red give them a distinctive and striking appearance, which is so unlike any other bird of North America.Rather large birds around 22 inches in length with wing spans of about four feet, they feed on insects, reptiles, small to large rodents, mammals, birds and are also quite fond of carrion. Their preferred habitat is open pastures, fields, grasslands, and semi-arid scrub lands where they can be seen walking (not typical of falcons) on the ground. Their long legs providing height for them to search almost any morsel they could dream about.
We are fortunate to be able to find Crested Caracaras in the proper habitat in several areas surrounding Houston. Good places to find this multicolored and showy species are the Katy area north of I-10 and east to Hwy 290, Galveston Island, Bolivar Peninsular, Brazos Bend area, and south of Houston anywhere there are open fields or grasslands.