Common Gallinule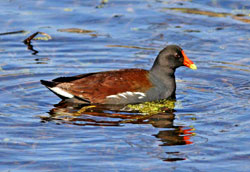 Common Gallinule
Gallinula galeata
Family: (Rallidae) Rails, Gallinules, and Coots
Preferred Habitat: Freshwater ponds and marshes.
Seasonal Occurrence: Common throughout the year. Permanent resident.
Notes: The most widely distributed member of the rail family, the Common Gallinule is a permanent resident in the Houston area. The unique bird has a gray-black body, brownish upperparts, white-streaked flanks, long, greenish yellow legs, a reddish forehead shield and a red bill with a yellow tip. Breeding adults have a brighter bill and forehead shield. Juveniles have paler plumage, duller legs and bill and a white throat.
Common Gallinules can be found in freshwater ponds and marshes. Unlike most other members of the rail family, the Common Gallinule is comfortable feeding in open areas. They are typically spotted swimming among vegetation at the water's edge. Common Gallinules have long toes that makes it possible to walk on soft mud and floating vegetation.
Common Gallinules mostly consume the leaves, stems, and seeds of various water plants as well as the fruits and berries of terrestrial plants. They also eat insects, spiders, earthworms, snails and tadpoles. The Common Gallinule has a wide repertoire of sounds. Anahuac NWR and Brazos Bend State Park are good places to look and listen for Common Gallinules.
-- Vicki Stittleburg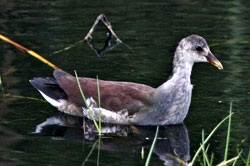 Common Gallinule (juvenile)