Burrowing Owl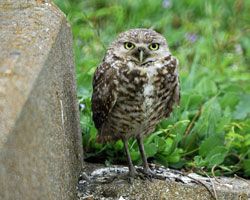 Athene cunicularia
Family: (Strigidae) Owls
Preferred Habitat: Sandy prairies, beaches, rocky jetties 
Seasonal Occurrence: Occasional in winter.
Notes: Burrowing Owls are unusual on the Upper Texas Coast, but there are regular sightings of individual owls in winter. John Tveten reports in his book The Birds of Texas that one spent several seasons at Bolivar Peninsula using a trash heap for his domain where it liked to perch on an abandoned mattress. In 2007 a Burrowing Owl took up residence at a more picturesque location in Fort Travis Park on the western end of the Bolivar Peninsula. Its favorite perch was an alcove in a concrete wall of an old bunker. In the fall of 2009, another Burrowing Owl was present for a couple of weeks at Bolivar Flats Shorebird Sanctuary 
John Whittle, compiler of the Sea Rim Christmas Bird Count, reports that a Burrowing Owl was also found during the Sea Rim CBC on Dec.31, 2006. This was most likely a different bird. He writes, "Wintering Burrowing Owls are very territorial at least in the sense of staying in a very small area, and using the same "burrow" or burrow substitute. The staff at McFaddin NWR (near Port Arthur) usually see two or three in widely differing locations on the refuge each winter, and one that was seen near the entrance stayed put for the winter in 2005/6. So I think they are probably increasing in numbers, and we may just be getting a little better at finding them."