Buff-bellied Hummingbird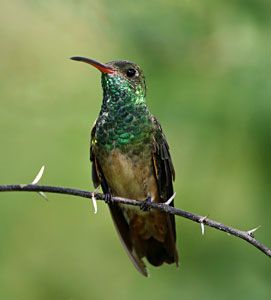 Amazilia yucatanensis
Family: (Trochilidae) Hummingbirds
Preferred Habitat: Gardens, anywhere suitable flowers are found.
Seasonal Occurrence: Rare in winter.
Notes by Susan Billetdeaux: The Buff-bellied Hummingbird is a Mexican species that has traditionally have been a south Texas specialty, but appears to be increasing its range northward. They are rare but regular winter visitors to the Upper Texas Coast. Every year there are scattered reports of them visiting feeders. There have been recent reports for High Island, Lake Jackson and within the Houston city limits. Males and females are very similar, but for the female the upper part of the bill is darker and the green throat is somewhat less iridescent. The red bill is unique among American hummingbirds. The Cornell Lab of Ornithology reports that this species is also unique in dispersing to the north from its breeding areas in south Texas.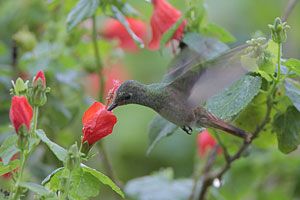 Buff-bellied Hummingbird and Turk's Cap
Profile by Aidan Healey: Like most hummingbirds, the Buff-bellied Hummingbird is primarily green, especially around the head and back. It has a rufous-colored tail and a buffy wash to its light underside, and its bill is distinctively reddish or orangey-red with a black tip. Weighing just under 5 grams (about as much as two sugar cubes), the Buff-bellied Hummingbird is actually one of the largest hummingbirds to visit the Houston area. It can be found and identified by its high-pitched twittering call, which it is known to give year-round, both while perched and in flight.
The Buff-bellied Hummingbird is commonly found in oak woodlands and brushy areas, but it also is a regular visitor to urban parks and gardens. While it has been known to breed in southern Texas, the Buff-bellied Hummingbird is unique among North American hummingbirds in that it disperses northward along the Gulf coast during the winter – during the non-breeding season, you may even see a Buff-bellied Hummingbird visiting your feeder! While nectar or sugar-water can provide the energy these birds need, they will also feed on mosquitoes and other insects, which they often catch in mid-air.
Cornell Lab of Ornithology