Brown Pelican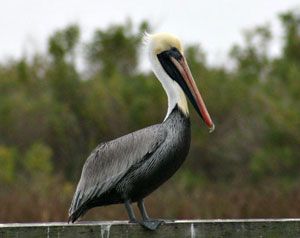 Pelecanus occidentalis
Family: (Pelecanidae) Pelicans
Preferred Habitat: Coastal; rare inland.
Seasonal Occurrence: Permanent resident. Common throughout the year.
Profile by Maria Hart: The Brown Pelican is one of the two pelican species commonly found in the USA. This species can be identified almost entirely by its large body and gular pouch size. A Brown Pelican's wingspan can reach lengths of up to 6 and a half feet! The Brown Pelican has a stocky build with a grayish brown body, a dark belly, and a white neck with a light yellow head. During breeding season, the neck feathers turn a dark brown on adults.
 
Brown Pelicans can be spotted flying just above the sea or bay, rising and falling with the waves in search of a tasty meal of small fish. Once their prey is spotted, this species of pelican makes an incredible head first dive into the water, tucking and twisting its head to the left side in order to protect vital organs such as the esophagus and trachea. Resulting from the dive, their gular fills with up to 2.5 gallons of water trapping nearby fish. While keeping their beak under the surface, they expel the excess water leaving a tasty fishy treat to swallow!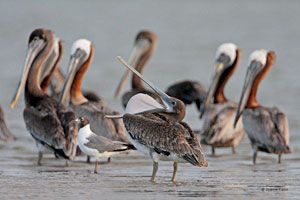 During the breeding season, males are in charge of nest placement and females are tasked with the nest construction. Brown Pelicans are highly adaptable when it comes to nesting and will place them in trees, shrubs, and on the ground of islands. Females will lay 2-4 eggs a year and incubate them with the webbing of her feet. After the eggs have hatched, Brown Pelicans co-parent until the young are ready to leave the nest.
 
Due to the wide range use of DDT and other chemicals, Brown Pelicans experienced a dramatic decline in population from the late 50s to the early 70s and were added to the Endangered Species List. The conservation of Brown Pelicans was a success thanks to tireless management efforts. This species rebounded to a healthy and still expanding population. By 1985, they were able to be removed from the list in the southeastern portion of the country and by 2009, they were removed from the list entirely.
If you want to appreciate the remarkable success story of the Brown Pelican, come on down to the Texas coast. You are sure to see many at Bolivar Flats Shorebird Sanctuary!