Black-bellied Whistling-Duck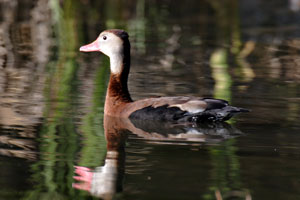 Black-bellied Whistling-Duck (adult)
Dendrocygna autumnalis
Family: (Anatidae) Ducks, Geese and Swans
Preferred Habitat: Wetlands
Seasonal Occurrence: Increasingly common throughout the year, but lesser numbers in winter. Breeds in our area.
Notes: Black-bellied Whistling-Ducks, also formerly known as Black-bellied Tree-Ducks, have been expanding their range on the Upper Texas Coast. There are frequent reports of new sightings in suburbs north and west of Houston. Brazos Bend State Park is also an excellent, reliable location to find them.
Black-bellied Whistling-Ducks, with their bright salmon-pink bills and legs and dark chests, are easy to identify. Males and females look alike; juveniles are predominantly gray in color with gray bills. They are often seen in the open and appear to be quite tolerant of humans. They are active at dawn and dusk and often forage at night. Nests are usually located in tree cavities, nest boxes or on the ground in grassy areas or under brush or cacti near water. Female Black-bellied Whistling-Ducks lay an average of 13 eggs and several females lay in the same nest.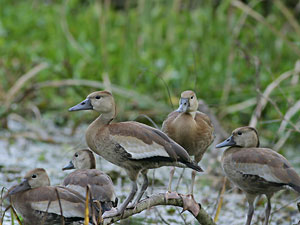 Black-bellied Whistling Duck (juveniles)