Barred Owl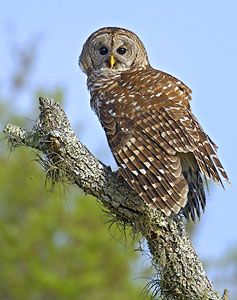 Strix varia
Family: (Strigidae) Owls
Preferred Habitat: Dense swamps and moist woodlands.
Seasonal Occurrence: Common throughout the year. Nests in our area.
Notes: Barred Owls are common throughout the year in Houston and nest in our area. One of the best sites to look for Barred Owls in Houston is along Patterson Road, on the southern boundary of Bear Creek Park and along Sharp Road, in far northwest Houston (Katy Prairie).
Profile by Will McDaniel: The Barred Owl is a large owl native to the eastern half of North America, ranging from eastern and coastal Texas in the south up to central Canada. Adults range from 16-25 inches long with wingspans between approximately 3 and 4 feet, weighing a hefty 1.1 to 2.3 pounds. Mature birds display a mottled greyish-brown pattern on their backs, the better to camouflage in the shadows of trees. They sport black and white stripes underneath their tail and wings, and earn their name from the contrast between the horizontal 'bars' on their chest and the vertical 'streaks' on their belly. Their round, flat faces are pale with bright yellow beaks and dark spectacles around dark brown eyes. Barred Owls are part of a group known as 'true owls', and are the only member of this group in eastern North America to have brown eyes rather than yellow eyes, a trait they share with the more distantly related barn owls. Also called 'hoot owls', these predators are often quite vocal and will emit a distinctive 'who cooks for you, who cooks for you all' call.
Barred Owls primarily subsist on small rodents, especially meadow voles, but have been known to capture larger prey such as rabbits and opossums as well as the occasional bird, including domestic fowl that aren't secured overnight. Owls have excellent night vision thanks to their enormous cylindrical eyes, and their disk-shaped face allows them to pinpoint the slightest noise with incredible accuracy, channeling sound waves toward their ears like a radar dish. Barred owls prefer to shelter in tree cavities, which serve as nesting sites as well as permanent residences. While their natural habitat is dense forests, Barred Owls often inhabit suburban neighborhoods due to an abundance of prey. Unfortunately, owls in these areas often suffer from a shortage of nesting sites, mortality from vehicle collisions, and violent competition from the larger Great-Horned Owl, their main predator. Nesting takes place in early spring, with 2-4 eggs per clutch.
The Barred Owl's range has increased significantly due to the expansion of forests caused by fire suppression and other factors, particularly in the Great Plains that once served as a barrier for these woodland birds. As a result, the Barred Owl has colonized the Pacific Northwest, where they have contributed to the decline of the Northern Spotted Owl through aggressive competition. In Texas, however, Barred Owls are a charismatic and often welcome neighbor, and can be encouraged to move into one's yard through the use of nest boxes.
Profile by Grace Yaros: Named for the horizontal brown stripes along the top of their chest, Barred Owls are large, brown-and-white owls with black eyes and striped underparts. They can be distinguished from the similarly large Great Horned Owl by their dark eyes and the lack of tufts on their head. They're found in wooded areas, usually near water, where they feed on a variety of small mammals, snakes, lizards, and even other birds. Barred Owls are sit-and-wait predators and will search for prey from a high perch before pouncing. Like most owls, they are mostly nocturnal, though they are frequently active during the day as well.
Their range encompasses much of North America east of the Great Plains, and they have recently colonized parts of the Northwest, where they compete with the declining Spotted Owl. Despite this expansion westward, Barred Owls are nonmigratory, though individuals may become temporarily nomadic and travel in search of food if prey is scarce.
They make a variety of hooting calls; a popular pneumonic for their song is "Who cooks for you? Who cooks for you all?" Barred Owls are highly territorial and use these hoots to advertise their presence and ward off intruders. Mated pairs will often duet with each other. It's thought that pairs mate for life, usually raising between 1-3 young per year.
There are currently three recognized subspecies of Barred Owl, one of which is found only in southern Texas! Barred Owls can be found at the Edith L. Moore Nature Sanctuary in Houston, where you can listen for their hoots or watch one resting high in a tree during the day!
Cornell Lab of Ornithology