HOUSTON AUDUBON URBAN BIRD SURVEY
Rice University
Next Survey: September 26, 2023
Survey Leaders: Cin-Ty Lee, Stuart Nelson, and Mark Kulstad
We meet at 7:30 AM by the Owl Deck in Intramural Field 6 behind the Social Sciences building (the field is between Tudor field house and Wiess college) and walk around Harris Gully. Everyone is welcome. We have extra binoculars for beginners. Join us to experience biodiversity in an urban habitat.
Email Cin-Ty to be placed on the mailing list or if you'll need a pair of binoculars for the survey.
About the Survey
Meet by the Owl Deck at Intramural Field 6 (coordinates: 29.714622, -95.402109), which is by Harris Gully and between the Tudor Field House and Wiess College. The closest paid parking is in the Moody Visitor lot, which is accessed from the entrance to campus at the intersection of University Blvd and Stockton St. From the Moody Center parking lot, walk east along the paved road past Reckling baseball park to the intramural area. We begin at Harris Gully. From there, we will make a circuit around campus and end at the café at the Brochstein Pavilion. 
228 species of birds have been recorded at Rice. It ranks as one of the top migrant traps in Harris County. At the right time of the year and with the right weather patterns, numerous migrating songbirds and sometimes migrating hawks and waders can be seen. For an urban environment, Rice stands out for the number of unusual birds that have shown up over the years. Oddities have included Wood Stork, Zone-tailed Hawk, Harris's Hawk, Swallow-tailed Kite, American Woodcock, Virginia Rail, Vermilion Flycatcher, Western Kingbird, Calliope Hummingbird, Black-chinned Hummingbird, Broad-tailed Hummingbird, Rufous Hummingbird, Sprague's Pipit, Bell's Vireo, Cassin's Vireo, Townsend's Warbler, Eastern Towhee, Grasshopper Sparrow, LeConte's Sparrow, Clay-colored Sparrow, Harris's Sparrow, and Western Meadowlark.
The map below shows the meeting location. The coordinates are 29.714735, -95.402145 
About Harris Gully and the Owl Deck
Our dream is to make Harris Gully the proto-type for urban biodiversity and to make it accessible to all. A constellation of urban sanctuaries, from Hermann Park to Rice U to the Bellaire Discovery Center to Houston Audubon's Edith L Moore and more. The Owl Deck is the start of making Harris Gully even better than it is. Nowhere else in Houston can one get as many sparrow species in a small spot as us. Few other urban spots can total 81 species of migrants in a day. Kids can wander the prairie and find toads. Students use it as an outdoor laboratory. Patients from the medical center can come and decompress. I want to make sure this lasts for future generations. Our next step is to build out an ADA-accessible path to the Owl Deck and surround it with a collage of native plants.
To learn a little more or if you would like to donate to this effort, please go to this link:  https://riceconnect.rice.edu/donation/sns-harris-gully-natural-area-fund 
If you'd like to talk more about our efforts in transforming Harris Gully or to help with future fundraising, please reach out to me and Jackie Macha (jackie.macha@rice.edu)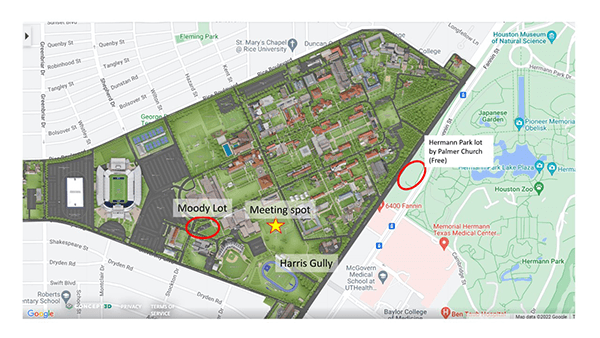 ---