HOUSTON AUDUBON URBAN BIRD SURVEY
Moody Gardens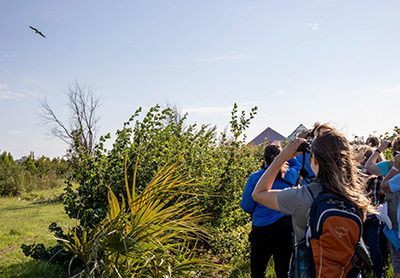 Next Survey: October 6, 2023
Survey Leader: Greg Whittaker
Co-Leader: Clayton Leopold
Meeting Time: 7:00 AM. Meet at the tram stop at the north end of the west parking lot. See map below where the star is the location of the covered tram stop. The yellow route follows the main entry to Moody Gardens down Hope Blvd, past the Hotel, Aquarium, and other attractions out to the west parking lot.
We meet monthly on the first Friday. We first walk the mulch yard, tree farm, north marsh and then continue back east along Offatt's Bayou shoreline. We'll tweak the route based on conditions and sightings, but in general it will include the waterfront perimeter of Moody Gardens property and at least one swath through the central area to hit the wooded habitat.
The habitat is a combination of upland marsh, intertidal saltmarsh, bay, woodlot. We'll mainly use paved paths with manicured landscape areas, but there will be some walking through a bit higher grass, marsh habitat and possibly moist/muddy conditions depending on rains/tides. Restrooms are available in buildings along the route. Remember your sunscreen, bug spray, and binoculars!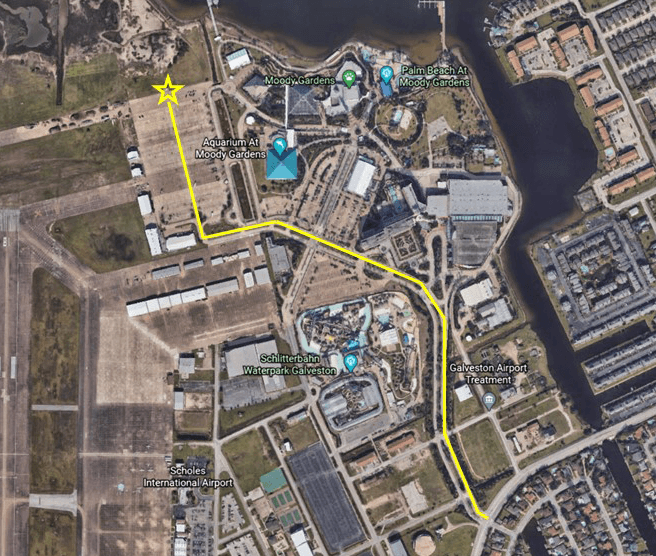 Moody Gardens Survey Meeting Spot
---