Lorraine Cherry Nature Preserve
Lorraine Cherry Nature Preserve is an eBird hotspot. It's listed as West 11th Street Park.
Upcoming Survey: November 29, 2022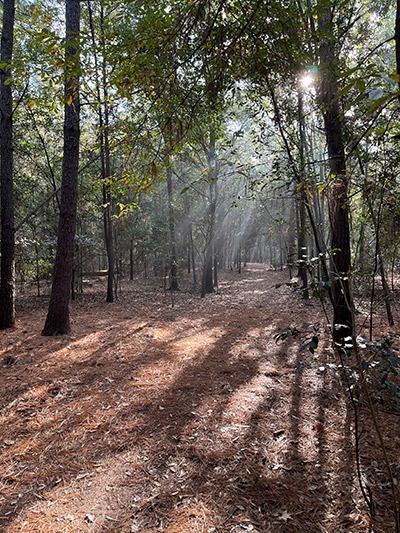 Bird walks are held at the Lorraine Cherry Nature Preserve (formerly known as W 11th Street Park).
Weekly Morning Walks: September - May on Tuesdays. They start at 8 AM and are led by Laura Bradham.
Monthly Evening Walks: September - November and February - May on the first Thursday of the month. They start at 5:30 PM and are led by Laura Bradham and her husband Michael Bradham.
The preserve has about 1.75 miles of rustic unpaved trails. No restrooms are available. Meet at the kiosk at the entrance on the Shelterwood side of the park.
Be sure to mark your calendar for our next First Thursday Bird Walk in the Forest on November 3 at 5:30 pm as well as our Ribbon Cutting Ceremony on October 11 at 10:00 am! There will be no Bird Walk on October 11 due to the Ribbon Cutting Ceremony.
Construction note: If you haven't traveled west on W 11th Street lately, please know that we are having some MUCH needed and MUCH desired road work on W 11th Street between TC Jester Blvd and the nature preserve. You can still turn on Shirkmere to get to the nature preserve if you come on W 11t Street, but Shelterwood is temporarily blocked off at this time. You can take TC Jester Blvd north from W 11th Street to Waltway, then turn left onto Waltway to get to the Shelterwood side if you'd rather come that way.
About the Preserve
The Lorraine Cherry Nature Park Preserve is a 20-acre forest inside the loop 610, located at 2400 W 11th Street. It's located in the middle of the Timbergrove Manor neighborhood, fairly close to Memorial Park and the Arboretum. Great Horned Owl sightings are common during the months of September - March. The owls regularly nest in the park and can be observed raising their young. The preserve is Site UTC-093A on The Great Texas Coastal Birding Trail.