HOUSTON AUDUBON URBAN BIRD SURVEY
Hermann Park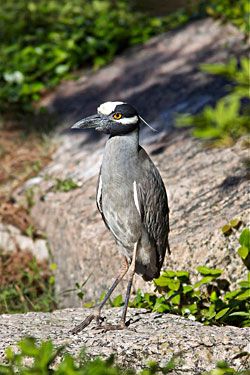 Yellow-crowned Night-Heron
Next Survey: December 11, 2023, starting at 8:00 AM
Survey Leaders: Skip Almoney and Peter Tsan
The Hermann Park Survey is conducted on the second Monday of the month, September through June. We take a break in July and August. Everyone is welcome -- beginners, experts, or even if you're just curious. Please bring binoculars. If you don't have any, let us know in advance and we'll provide them. Comfortable walking shoes are suggested.
Take the Parking Lot D entry from Hermann Park Drive. It is also the entry to the north end of the Zoo parking lot. We park in Lot D just across the railroad track. We split into two groups, each surveying different portions of the park. One group visits McGovern Lake and the Japanese Garden, while the other crosses the golf course to Bayou Parkland. Both groups finish in about two hours, but there is no requirement to remain for any given length of time. Please check our webpage for any changes to the meeting time.
If you're new to the survey, please contact us in advance. If you don't have binoculars, please let us know and we'll provide them.
Parking Directions
Driving around on Hermann Park Dr. from the Museum of Natural Science and McGovern Centennial Gardens, the entrance to Parking Lot D is on your right side, just before you get to the large lots in front of the main zoo entrance. The entrance will say Parking Lot "E". Parking Lot "D" is behind Lot "E". We use Lot "D". The signage at the entrance of Lot "D" states there is a two hour limit without a permit. We have permission to use "Lot D".
Notes for Birders
Hermann Park, one the city's oldest and most popular parks, has many attractions not only for people but birds as well. The wooded areas, ponds and bayou attract over 150 species of birds each year. Braes Bayou runs through the 407 park acres. This varied park habitat supports a variety of birds. Commonly found in the park are Mallards, American Coots, Rock Pigeons, Red-bellied Woodpecker, Blue Jay, Great Blue Heron, Great Egret, Mourning and White-winged Doves, Northern Mockingbird, European Starling, Northern Cardinal, and Great-tailed Grackle.
On the west side of the bayou we find the large McGovern Lake surrounded by various trees—pines, bald cypress, sycamore, red maple, and a variety of oaks. Birds are also drawn to Turk's cap, American beautyberry and yaupon in the understory. At various times throughout the year this habitat attracts Ring-necked Ducks, Cormorants, Ruby-throated Hummingbird, Black-bellied Whistling Duck, Black-crowned Night Heron, Green Heron, Yellow-crowned Night-Heron, Laughing Gull, and Chimney Swifts. Over on the east side of the bayou there are a variety of hardwoods including hackberry, oaks, and bald cypress. And the understory includes yaupon, palmetto and coralberry. Seasonal birds seen there include Barn and Cliff Swallows, and various warblers such as Common Yellowthroat, American Redstart, Magnolia Warbler and Blackburnian Warbler. Other species seen at the bayou have been Brown Pelican, Least Sandpiper, Osprey and American Pipit.
-- Jim Winn

---