Hermann Park Bird Survey
Next Survey: December 9, starting at 7:30 AM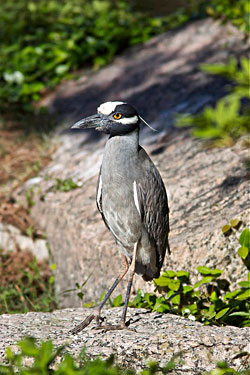 Yellow-crowned Night-Heron
Volunteer Coordinators: Jim Winn and Harlan Evans
The public is invited to join us at Hermann Park on the second Monday morning of each month. There is no charge for these bird walks and children are welcomed. We meet in parking lot "D" on the south side of the Miller Outdoor Theatre stage. From Hermann Park Drive parking lot "D" shares the entrance with parking lot "E". From the fountain in front of Hotel ZaZa, drive around on Hermann Park Dr.(also shown as Golf Course Dr. on some maps) past the Museum of Natural Science and McGovern Centennial Gardens. The entrance to Parking Lot D will be on your right side, just before you get to the large lots in front of the main zoo entrance. The entrance will say Parking Lot "E". Go in there. Parking Lot "D" is behind Lot "E".
Latest Report: November 11
 With comfortable, yet overcast weather, and sixteen participants, we found 34 species this morning.  Participating were Skip Almoney, Leta and David Barry, Dick Brooks,  Ellen Coombs, Nate Dillard, Harlan Evans, Doris Heard, Ben Hulsey, Barbara Massey, JR Ridgway, Jim Winn, Jan Yauch, Noel Zinn, Paulene Zinn and Patrick Zinn. Harlan captured photos of a Blue-gray Gnatcatcher and an Easter Wood-Pewee just inside the Japanese Garden. 
  -- Jim Winn
Combined Checklist: November 11, 2019
34 Species  
Rock Pigeon – Abundant
White-winged Dove – 40
Mourning Dove – 1
Spotted Sandpiper – 4
Black-bellied Whistling-Duck – 182
Duck sp. – 8
Graylag Goose (domestic type) – 26
Egyptian Goose – 4
Muscovy Duck (domestic type) – 46
Mallard – 7
Ring-necked Duck – 30
American Coot – 27
Brown Pelican – 4
Double-crested Cormorant – 19
Great Blue Heron – 3
Great Egret – 2
Snowy Egret – 4
Osprey – 2
Red-shouldered Hawk – 1
Yellow-bellied Sapsucker – 1
Downy Woodpecker – 1
Red-bellied Woodpecker – 1
Eastern Wood-Pewee – 2
Empidonax sp. – 1
Eastern Phoebe – 3
Blue Jay -27
Ruby-crowned Kinglet – 2
European Starling – 9
House Sparrow – 1
Blue-gray gnatcatcher – 2
Northern Mockingbird – 10
Great-tailed Grackle – Abundant
Orange-crowned Warbler – 3
Northern Cardinal – 3
Notes for Birders
Hermann Park, one the city's oldest and most popular parks, has many attractions not only for people but birds as well. The wooded areas, ponds and bayou attract over 150 species of birds each year. Braes Bayou runs through the 407 park acres. This varied park habitat supports a variety of birds. Commonly found in the park are Mallards, American Coots, Rock Pigeons, Red-bellied Woodpecker, Blue Jay, Great Blue Heron, Great Egret, Mourning and White-winged Doves, Northern Mockingbird, European Starling, Northern Cardinal, and Great-tailed Grackle.
On the west side of the bayou we find the large McGovern Lake surrounded by various trees—pines, bald cypress, sycamore, red maple, and a variety of oaks. Birds are also drawn to Turk's cap, American beautyberry and yaupon in the understory. At various times throughout the year this habitat attracts Ring-necked Ducks, Cormorants, Ruby-throated Hummingbird, Black-bellied Whistling Duck, Black-crowned Night Heron, Green Heron, Yellow-crowned Night-Heron, Laughing Gull, and Chimney Swifts. Over on the east side of the bayou there are a variety of hard woods including hackberry, oaks, and bald cypress. And the understory includes yaupon, palmetto and coralberry. Seasonal birds seen there include Barn and Cliff Swallows, and various warblers such as Common Yellowthroat, American Redstart, Magnolia Warbler and Blackburnian Warbler. Other species seen at the bayou have been Brown Pelican, Least Sandpiper, Osprey and American Pipit.
-- Jim Winn