HOUSTON AUDUBON URBAN BIRD SURVEY
Armand Bayou Nature Center
Next Survey: January 13, 2024
Survey Leader: Andrew Hamlett
The count begins at 7:00 AM. If you would like to join, please meet in the front parking lot of Armand Bayou Nature Center and we'll break into groups from there. If you have any questions, feel free to reach out to us at armandbayoucbc@gmail.com.

About Armand Bayou Nature Center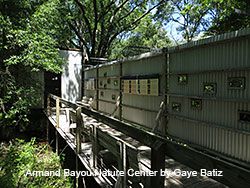 The Armand Bayou Nature Center is one of the largest urban wildlife refuges in the United States. The 2,500 acres of the refuge include prairie wetlands, forested wetlands, marshes, and the bayou. It provides great birding opportunities in a convenient location in Clear Lake off Bay Area Blvd., near the Johnson Space Center. Andrew Hamlett has been leading monthly bird counts at Armand Bayou Nature Center for Houston Audubon since 2006. In addition to the nature center, Bay Area Park and the UH Clear Lake campus are also surveyed if there are enough participants. Counts are held on the second Saturday of each month.
---