Archbishop Fiorenza Park Bird Survey
Next Monthly Survey: Wednesday, September 25, 2019 (starting at 7:30 AM)
Meet in the main parking lot near the restrooms.
Do you live on the west side of Houston and are you looking for a fantastic place to see an amazing array of birds? Well join us on the fourth Wednesday of each month at Archbishop Fiorenza Park (Phase 2) between Eldridge and Highway 6 for the chance to see a multitude of species, get a good healthy walk in and enjoy the company of other outdoor loving folks. This park has miles of paved trails, wooded thickets, open grassy areas, large detention ponds with bird islands and much more. It is north of the Westpark Tollway and just north of the original Archbishop Fiorenza Park on Eldridge.
Email Mary Anne Weber at maweber@houstonaudubon.org if you'd like to participate.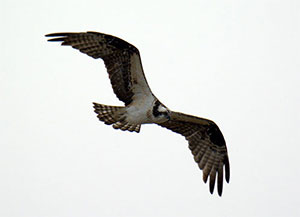 Osprey at Archbishop Fiorenza Park
Latest Report: August 28, 2019
We had quite an exciting bird survey this morning. In addition to seeing our first fall warblers we also rescued a Great Blue Heron that was tangled in fishing line along the bank of one of the ponds. I am adding more photos to the album but the below link will show you how the drama played out. At first we just noticed a branch moving back and forth as if by its own power and then we saw the line and thought a fish was caught but it turned out to be a Great Blue. He or she was tired but luckily had no injuries and will live to fish again. Monofilament line can be deadly to wildlife when not disposed of properly. Please spread the word.   Link to photos.
-- Mary Anne Weber