Archbishop Fiorenza Park Bird Survey
Next Monthly Survey: Wednesday, November 27, 2019 (starting at 7:30 AM)
Meet in the main parking lot near the restrooms.
Do you live on the west side of Houston and are you looking for a fantastic place to see an amazing array of birds? Well join us on the fourth Wednesday of each month at Archbishop Fiorenza Park (Phase 2) between Eldridge and Highway 6 for the chance to see a multitude of species, get a good healthy walk in and enjoy the company of other outdoor loving folks. This park has miles of paved trails, wooded thickets, open grassy areas, large detention ponds with bird islands and much more. It is north of the Westpark Tollway and just north of the original Archbishop Fiorenza Park on Eldridge.
Email Mary Anne Weber at maweber@houstonaudubon.org if you'd like to participate.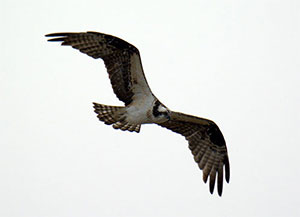 Osprey at Archbishop Fiorenza Park
Latest Report: September 25, 2019
The September Fiorenza Bird Survey did not disappoint even though there were few migrants. With the cooler weather coming in next week we should expect to see some changes and additions during the October survey at the end of the month. The cormorants are busy on nests and the banks were lined with Black-bellied Whistling Ducks as far as you could see and count.
The Osprey are back for the winter but a regal Anhinga had taken up their usual perch. Join us in October!  
-- Mary Anne Weber