American Basket-flower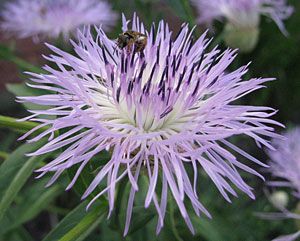 Centaurea americana
Alternate Name: American star-thistle
Family: (Asteraceae) Sunflower
Habitat: Dry prairies
Height: 1 1/2 to 5 ft.
Bloom Period: May - August
Description: This annual resembles thistles but lacks spines. It likes dry habitats with sun or part shade.
The Wildlife Connection: The blooms are very attractive to butterflies, bees, and other insects. Many species of birds, including bobwhites and sparrows, relish the seeds.
Propagation Tips: Plants reseed on their own. Harvest seeds from dried flower heads to propagate. Easily grown. You can also purchase American basket-flower seeds from Native American Seed.