Bufflehead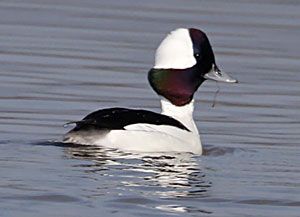 Bucephala albeola
Family: (Anatidae) Ducks, Geese, and Swans
Preferred Habitat: Lakes and shallow bays
Seasonal Occurrence: Common November through March
Notes by Susan Billetdeaux: Buffleheads are the smallest diving duck - some say they look more like a toy duck than a real one. Males have a large white patch which covers the entire back of the head in breeding plumage. In nonbreeding plumage the patch is not as extensive. Females have a white horizontal cheek patch. Buffleheads breed in Canada and Alaska. They appropriate suitable tree cavities for their nests, primarily selecting holes excavated by Northern Flickers. According to the Texas Parks and Wildlife, Texas has the record for the largest winter count of Buffleheads. The average number throughout Texas is 4,300.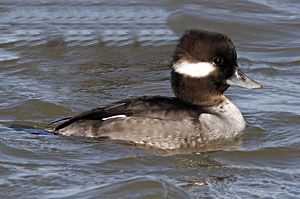 Profile by Sarah Lefoley: The Bufflehead is the smallest duck in North America. Male Buffleheads are small ducks with short dark grey bills, black backs, rumps, tails and wings, white underside, with thick vertical white stripes going across the wings, and a thick white patch going around the purple-green iridescent head. Female Buffleheads are dark grey-brown, and have white cheek patches.
The preferred feeding ground for the Bufflehead is in shallow, open bodies of water, sometimes over submerged mudflats. They dive for, and consume their food underwater. Buffleheads feed on small crustaceans, mollusks, fish eggs, insect larvae and invertebrates such as brine shrimp. In fall and winter, Buffleheads substitute these food items for plant materials, such as pondweed and bullrush seeds.
Buffleheads build their nests in unused Northern Flicker nesting cavities, which limits their breeding range to aspen woodland habitat, and boreal forests in Alaska and Canada. During winter, Buffleheads stay closer to the coast. The wintering range of Buffleheads consists of most of the US, excluding some of the midwest, northeast, and the Carolinas.
Cornell Lab of Ornithology