Thanks to our supporters, participants, and sponsors, the 2020 Birdathon was a resounding success and raised over $45,000 this year!
Birdathon is a unique tradition that takes place at Audubon chapters across the country during spring migration, and in Houston, the event has taken place every year since 1981.  Thanks to the enthusiasm from each of you, we were able to keep this tradition alive even with unique challenges due to the COVID-19 crisis.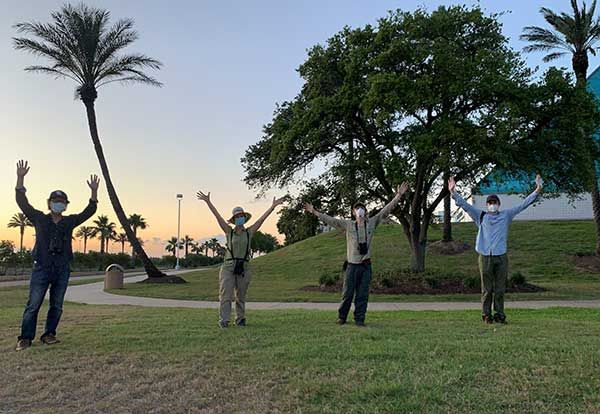 This year, with modified rules to follow social distancing guidelines, Birdathon teams found new ways to participate, and we are especially grateful for the efforts from everyone involved who helped support our mission to advance the conservation of birds and positively impact their supporting environments. As a result, funds raised helped Houston Audubon recover significant revenue losses due to sanctuary closures and canceled programs and events during the COVID-19 pandemic.
| Award | Winners |
| --- | --- |
| Oberholser Award - Most Species Identified by a Team | 1st Place: The Masked Canaries, 187 species |
| | 2nd Place: Noddy Roadrunners, 171 species |
| | 3rd Place: Nighthawks at the Diner, 149 species |
| Whittington Award - Most Funds Raised by a Team | 1st Place: The Masked Canaries, $11,851 |
| | 2nd Place: Eager Egrets, $5,275 |
| | 3rd Place: Socially-distanced Sandpipers, $4,292 |
| Individual Birding - Most Species | Greg Whittaker, 120 species |
| Digital Birding - Most Species | Judith Schott, 56 species |
| Raven Award - Most Corvids | Noddy Roadrunners, 43 Corvids |
Socially-distanced Sandpipers
A special thank you to our Birdathon Committee: Jonni Almoney, Cindy Bartos, Becky Smith, and Pam Smolen, as well as Ben Hulsey for providing the winners' plaques, and the following sponsors:
Links