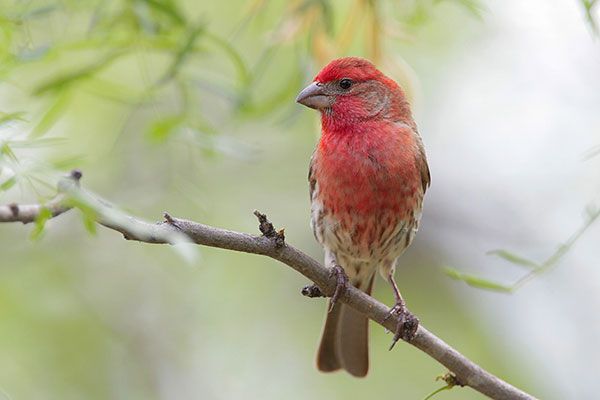 In our historic time of this threatening pandemic, I am reminded of the famous words:  "These are the times that try men's souls."  Those memorable words were penned in 1776 by Thomas Paine in his pamphlet "The Crisis" which was written in ardent support of the American Revolutionary effort and to summon the support of the soldiers and citizens during their unprecedented and perilous years.
 
So, how do we summon strength to make it through our weeks of social distancing and stay-at-home orders?  Here are a few of my suggestions for relieving stress or boredom and enjoying birds in your backyard.  I'm sure that many of you have already discovered these or have your own equally rewarding activities. 

I think we often overlook and even discount the birds that we see in our backyard and neighborhood.  But how well do we really know them?  A few of the birds that have been coming to our backyard include the gorgeous Cedar Waxwings (devouring yaupon berries), Chipping Sparrows, and House Finches.  We've had a resident Mockingbird, a pair of Cardinals, and a Pine Warbler singing in the trees behind our house.  Additionally, we're blessed to have a pair of Eastern Bluebirds in the trees just next to our backyard.  I built a nest box for them and placed it in a pine tree.  They've been taking nesting material to it so I'm watching for further developments!

These are all fairly common birds and you may be familiar with them.   But how familiar are you with the different age-based plumages of Chipping Sparrows?  In our yard, we have at least three different plumage patterns.  One appears to be approaching breeding plumage with a dark chestnut crown and bright white eyebrow.  A few others have typical winter plumage:  pale reddish-brown, streaked crown, dull eyebrow, thin black eyeline.  And we have several first winter birds: duller brown crown, less pronounced wing bars.  The differences are more apparent when you see all three of them feeding together.  And you may not have this opportunity if you're out in the field.  This advantage goes to backyard birding! 

Spend some time to truly look at common birds.  Learn the facial pattern and bill shape of the female House Finch so you can quickly separate her from the female Purple Finch which we sometimes have in the winter.  Study the birds around your home and check your field guide.  When the Mockingbird starts singing, as he will soon, listen intently and see what bird calls or other sounds you hear him mimicking.

For any of the birds that you know well, look at them with new eyes and an open mind.  Try to find something about the bird that you hadn't noticed before.  It may be bill shape, a behavior, or a vocalization.  How does it interact with another bird?  How does it feed?  Knowing the real details of a species, not just the classic field marks, will elevate your identification skills, especially at those times when the bird is partly concealed by leaves, branches, or grass.  An excellent way of focusing your attention on the details is to try and sketch the bird.  You don't need to try to imitate a field guide illustration.  The object is not so much the actual sketch, but the focusing on the details that sketching brings to our mind.

In the immortal words of the great baseball philosopher, Yogi Berra, "You can observe a lot just by watching."
 
This also is an excellent time to improve or create habitat in your yard to benefit and attract butterflies, birds, and pollinators.  I am adding plants to my yard.  Both seeds and plants can be ordered online and either picked up locally, delivered, or shipped. 

If you don't already have a water feature in your yard, I highly recommend one.  Even a simple bird bath will be welcomed by the birds.  If you do not want to get out and buy one, just a clay saucer (the kind that fits under clay pots) has the proper depth and will work.  If you can arrange for a drip of water (a trickle is all that's needed) into the bath, that will entice the birds even more. 

Although we may not be able to visit our favorite birding haunts this spring, we can still enjoy seeing and learning about birds in our backyard or on walks in our neighborhood.
Birding Classes with Glenn Olsen:  Many of you have been disappointed that the pandemic forced us to cancel Glenn's popular spring birding classes.  We have good news!  We hope to offer his classes online soon.
Photo:  Male House Finch by Greg Lavaty