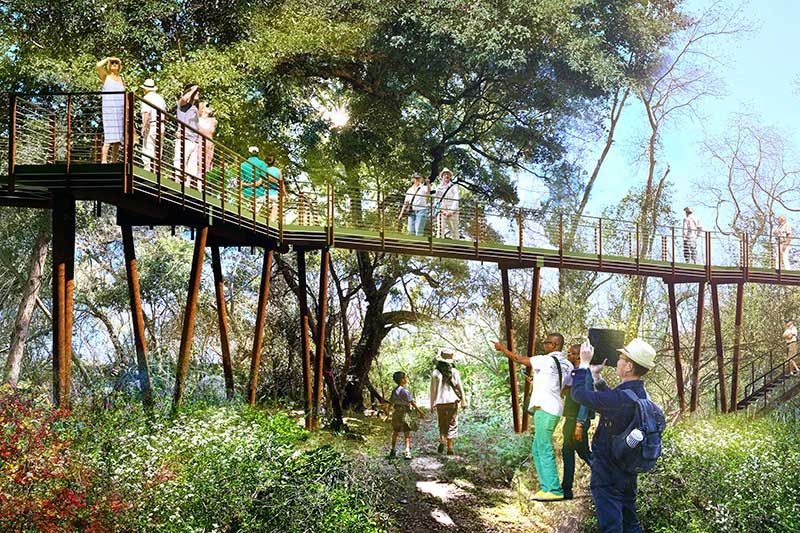 FOR IMMEDIATE RELEASE
Houston Audubon and John P. McGovern Foundation Announce $2.3 Million Nature Tourism Enhancement Project in High Island, TX
Project features the new Kathrine G. McGovern Canopy Walkway – an elevated viewing experience through the woodlot at Smith Oaks Bird Sanctuary
4/8/2019 – High Island, TX – Houston Audubon and Kathrine G. McGovern unveiled the $2.3 million nature tourism enhancement plan for Smith Oaks Bird Sanctuary in High Island on Saturday, April 6, 2019. The project will feature the Kathrine G. McGovern Canopy Walkway—an elevated viewing experience through the forest canopy and sub-canopy. The plans also include renovating a 1920's brick building known as the pump house, and new restrooms. The renovated pump house will be used as a visitor center and gathering space. The project is expected to be completed in time for Spring Migration, 2020.
"We are delighted to be able to sponsor the Kathrine G. McGovern Canopy Walkway at this beautiful sanctuary," said Kathrine McGovern. "It is for the birds and the people who enjoy them."
The architecture of the canopy walkway is designed to complement the natural backdrop and setting of the sanctuary. A handicap-accessible entrance ramp will lead to 700 feet of boardwalk through premium birding areas, and will reach up to 18 feet above ground. The immersive experience will include an overlook at Smith Pond and at the Clay Bottom Pond Rookery which is already a crowd pleaser for both intense birders, wildlife photographers and for casual tourists, who are thrilled to see the pink birds and alligators.
"The Kathrine G. McGovern canopy walkway will be a first for Houston Audubon and for the region. High Island is one of the most popular birding destinations in the US during spring and thanks to the generous support of the John P. McGovern Foundation, visitors will experience nature and a dazzling parade of birds on the elevated canopy walkway," said Helen Drummond, Executive Director of Houston Audubon. "We believe this unique experience will attract even more birders, photographers, and nature enthusiasts to the Upper Texas Coast."
Not only do birds contribute necessary ecological services, they also provide an economic boost. According to a 2016 US Fish and Wildlife Service report, $75 billion was spent on wildlife watching, and birdwatching was the biggest contributor with more than 66 million people participating.
Project design team includes SWA Group, SCHAUM/SHIEH Architects, CSF Consulting, LP, and Hunt & Hunt Engineering Corp.
Established in 1969 as an autonomous, self-supporting chapter of the National Audubon Society, Houston Audubon's mission is to advance the conservation of birds and positively impact their supporting environments, which it accomplishes through acquiring and maintaining critical habitat as bird sanctuaries, providing education programs and nature experiences for children and adults, and advocating policy and management actions in support of the mission. Houston Audubon owns and manages 17 nature sanctuaries encompassing 3,400 acres across the Greater Houston and Galveston regions and became an Accredited Land Trust in 2017.
END
Contact: Beth Boone
Phone: 713.932.1639
Email: bboone@houstonaudubon.org
https://houstonaudubon.org

Houston Audubon - Kathrine G. McGovern Canopy Walkway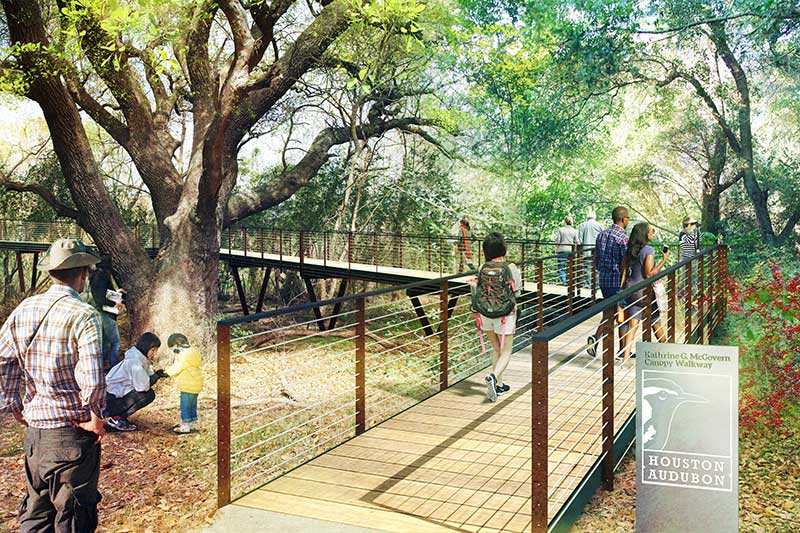 Houston Audubon - Kathrine G. McGovern Canopy Walkway Entrance


Houston Audubon- Pump House renovations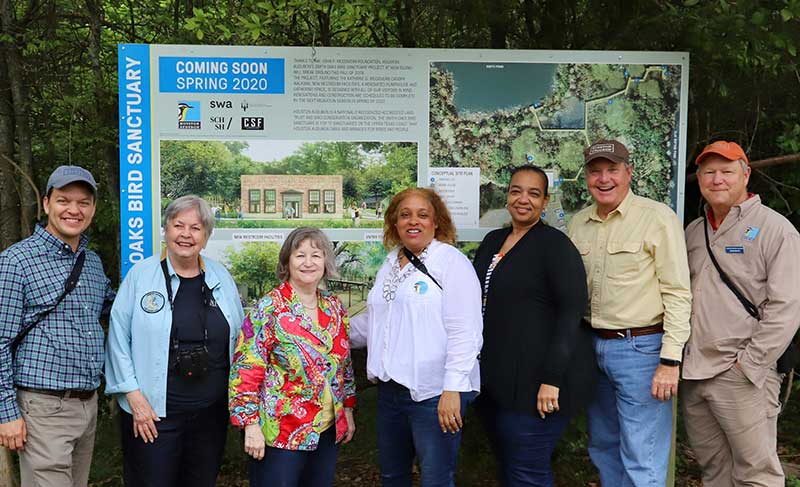 L to R: Richard Gibbons- Houston Audubon, Kathrine G. McGovern, Julia Mitchell – John P. McGovern Foundation, Helen Drummond – Houston Audubon, Shelia Lewis- John P. McGovern Foundation, Tim White, Sam Smith- Houston Audubon Board of Directors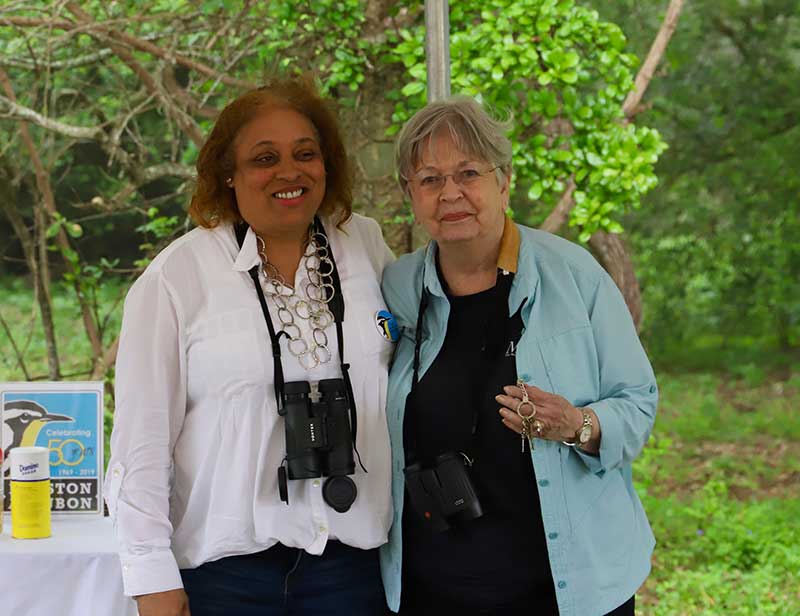 L to R: Helen Drummond- Houston Audubon, Kathrine G. McGovern- John P. McGovern Foundation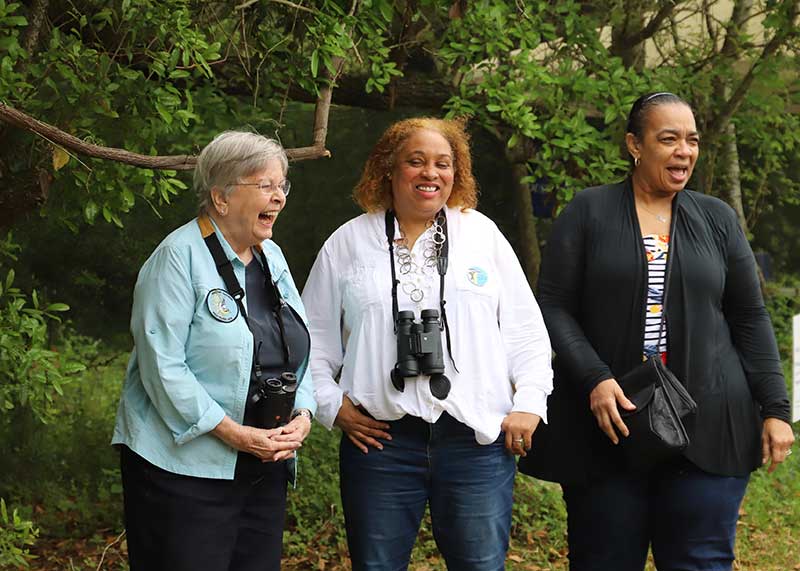 L to R: Kathrine G. McGovern- John P. McGovern Foundation, Helen Drummond- Houston Audubon, Sheila Lewis- John P. McGovern Foundation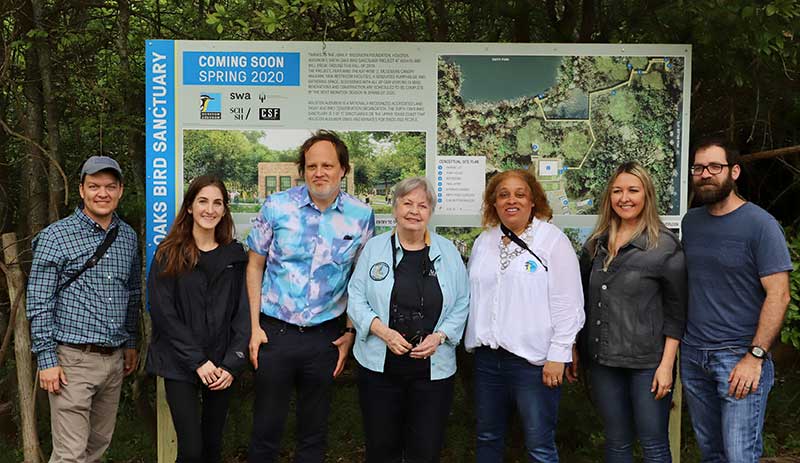 L to R: Richard Gibbons- Houston Audubon, Andrea Brennan, Troy Schaum- SCHAUM/SHIEH Architects, Kathrine G. McGovern- John P. McGovern Foundation, Helen Drummond- Houston Audubon, Natalia Beard, Matt Baumgarten- SWA Group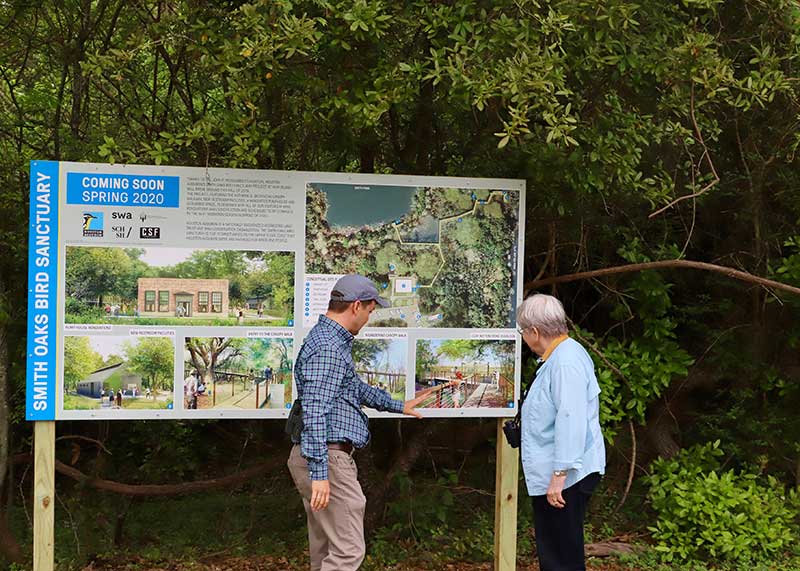 L to R: Richard Gibbons- Houston Audubon, Kathrine G. McGovern- John P. McGovern Foundation


Group photo of Houston Audubon ceremony attendees