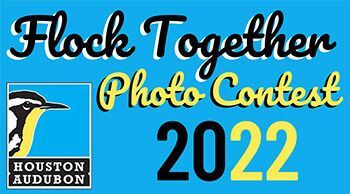 Houston Audubon is pleased to announce the winners of the Flock Together Photo Contest 2022! Thank you so much to everyone who participated. There were some wonderful submissions, which made selecting winners very difficult. Congratulations to the winning photographers! You can learn more about the photo contest here.
Birds of All Feathers: Brenda Lightfoot
"I am honored to accept this award for the Birds of All Feathers category and would like to dedicate it to my mother as she has just arrived home from the hospital after back surgery and who (no pun) has encouraged and supported me in all my photographic endeavors. Special thanks to my subject for making such a grand display of owl his feathers in our backyard and to my daughter, Eliza, for suggesting that we refer to this owl as Owlexander the Great (Horned Owl)."
Bird City: Luis Revilla Mata
"I consider this achievement a step towards sharing birds with the world. Encouraging conservation through my bird photography has been my number one goal since I first started doing this. I hope that this picture can encourage others to get out there and learn not only about birds but also the importance of conserving our green spaces for all wildlife!"
Birds, Camera, Action!: Joseph Smith
"I appreciate the recognition for something I just love to do. I hope the Flock Together Photo Contest will encourage others to experience the joys of nature and provide opportunities to capture some memories that can be shared with others."
Small-In-Frame: Anthony (Tony) Clements
"I have acquired thousands of bird images and am still looking for that "one great shot". I have also seen hundreds of fantastic images online, including many taken by outstanding photographers who live here in the Houston area. I was quite surprised and extremely pleased that my image was chosen as the "Small in Frame" category winner. Thanks very much for the recognition of my photo."
Not Just A…: Nicole Land
"Thank you so much for the honor! Spending the day watching this female Cardinal prance around in the water was a wonderful experience. She had such personality and I wanted to do my best to capture that in my camera!"
The winners and their winning photos are on the Flock Together Photo Contest page. From September 17-22, you can vote for your favorite photo for the People's Choice Award! The winner will be announced at the end of Bird Week.
We'd also like to thank our panel of judges: Skip Hobbie, Jane Kim, Corina Newsome, and Ca meron Kirkpatrick -- for expertly selecting the winning photos for 2022's Flock Together Photo Contest in honor of #HoustonBirdWeek!