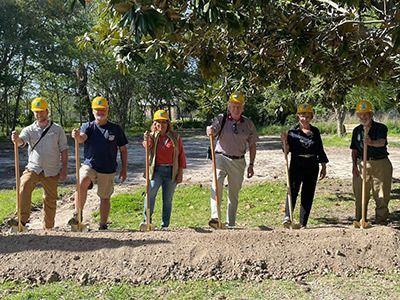 Houston Audubon is excited to announce that we have broken ground on the new Clint and Mary Frances Morse Field Station in High Island, Texas.   The new field station will serve as coastal headquarters for the staff and volunteers at High Island, as well as provide facilities for a variety of educational programs, workshops, and scientific research to promote conservation.  This 1700 sq. ft modern structure will include office space, a large conference room, restrooms, an ample kitchen, storage, and a screened-in porch.
The new field station is part of a master plan developed by key stakeholders to address the need to enhance stewardship and conservation of critical bird habitat, expand and enhance nature tourism and outdoor recreation opportunities, and build a more resilient nature-based coastal economy.  "The Morse Field Station will not only build operational capacity for sanctuary stewardship and visitor services but will also provide new collaborative opportunities in education and research," says Helen Drummond, Houston Audubon's Executive Director.  
Thanks to a generous lead gift from Sara and Mark Bettencourt, the building will be named The Clint and Mary Frances Morse Field Station after Sara's parents.  "We are grateful to mom and dad for instilling in our family a sense of marvel, wonder, and pure joy of being in nature.  They would be delighted to know that finding renewal in natural places now continues through four generations," says Sara Bettencourt.
A groundbreaking ceremony took place on April 9, 2022 with Houston Audubon leaders and field station donors in attendance.  Course Construction Group is leading the project with a completion date of Spring 2023.
Learn more and see a complete list of donors