The Clint and Mary Frances Morse Field Station
Coming to High Island in 2023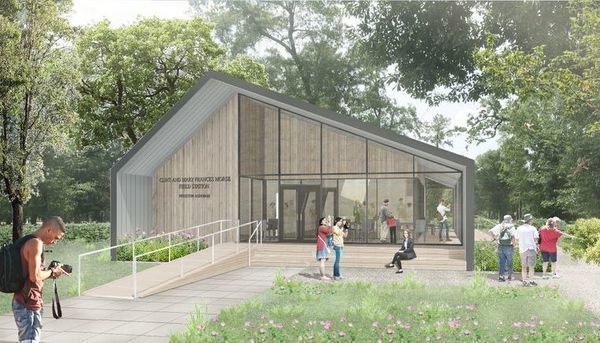 Houston Audubon is excited to announce the construction of a new field station which will serve as coastal headquarters for the staff and volunteers at High Island, as well as provide facilities for educational outreach and research work.  The new field station is part of a master plan developed by key stakeholders to address the need to enhance stewardship and conservation of critical bird habitat, expand and enhance nature tourism and outdoor recreation opportunities, and build a more resilient nature-based coastal economy. 
The current field station, which is dilapidated and has reached the sunset of its service, will be torn down this year, and in its place will be a new 1700 sq. ft modern structure to include office space, large meeting/conference room, restrooms, an ample kitchen, storage, and screened-in porch. Thanks to a generous lead gift from Sara and Mark Bettencourt, the building will be named The Clint and Mary Frances Morse Field Station.
Field Station Fundraising Campaign
With your help, we look forward to opening the new field station in 2023 and providing much needed amenities to the dozens of volunteers who are vital to High Island operations, staff, and visiting researchers in addition to hosting a variety of education classes, workshops, and bird conservation science research.
If you would like to contribute toward the field station campaign, you may donate online or send a check. Funds raised will support design, construction, and maintenance. All donors at the $1,000 level and above will receive recognition on permanent signage at the field station.
If you prefer to send a check, please make payable to "Houston Audubon" with "field station campaign" in the memo line. 
Mail to: Houston Audubon, 440 Wilchester Blvd., Houston, TX 77079
If you have any questions, please email Aimee Friend, Development Director, at afriend@houstonaudubon.org.
---
Thank you to these generous donors who have supported the campaign
$150,000+
Sara and Mark Bettencourt
$50,000-$99,999
Lynne and Joe Hudson
Jesse W. Couch Foundation
$25,000-$49,999
Jan Cato
The Fondren Foundation
Hunton Andrews Kurth Endowment Donor Advised Fund
Jacob and Terese Hershey Foundation
Mary Gwen and Ben Hulsey
Nancy and Clive Runnells Foundation
Kathryn Smyth Runnells
Allison and Dan Ryder
Frank C. Smith, Jr./The Bayou Fund
Connie and Jeff Woodman
$10,000-$24,999
Cullen K. Geiselman
Janeen Judah
Malcolm C. Damuth Foundation
$1,000-$9,999
Jonni and Skip Almoney
Cindy and John Bartos
Marylene Chan and Tony Dang
Annie Benzon
Scott A. Davis
Doris and John Heard
Ann and Tom Kelsey
Gwen Kunz
Nan and Gibbs MacDaniel, Jr.
Vivian and Clinton Morse
Russ Pitman
Letha Slagle and Grant Gist
Emily Todd/Wendy and David Todd in memory of Lucie Wray Todd
Betsy and Jim Winn