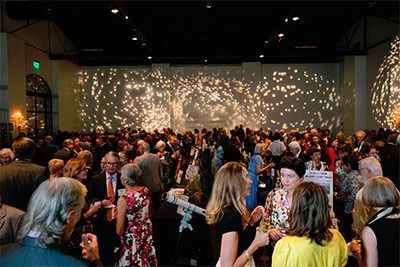 On October 19, Houston Audubon celebrated the sound of birds, their beauty and diversity, and the vital role they play in our region at its annual fundraising dinner, Avian Affair. Event Co-Chairs, Heather and Jeff Firestone and Carol and Dan Price planned a lively evening at The Revaire including a silent auction, wine pull, and raptor experience to kick off the evening. Emcee Ken Hoffman of CultureMap welcomed the 325 guests into the ballroom for a seated dinner and performance by the renowned Houston quintet, Windsync, who performed pieces inspired by birds including a world premiere written exclusively for the event and performed for the first time that evening. In addition, the Kathrine G. McGovern Urban Conservation Award was presented to Cin-Ty Lee, PhD, the Harry Carothers Wiess Professor of Geology at Rice University, for his efforts in preserving and protecting urban habitat and inspiring kids and adults with his love of birds.
Over $375,000 was raised to support Houston Audubon's work in the Houston Gulf Coast region to protect birds and their habitat through sanctuary and habitat management, environmental education, and conservation advocacy.
For more information contact Aimee Friend at afriend@houstonaudubon.org.