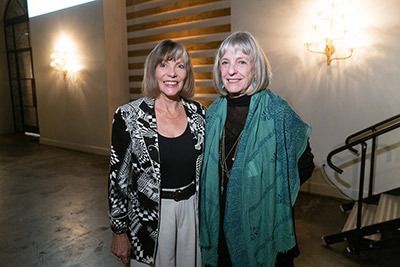 On October 20, Houston Audubon celebrated the connection between art and nature at its annual fundraising dinner, Avian Affair.  Honorary Co-Chairs, Isabelle Scurry Chapman and Jim Blackburn, along with the Avian Affair Art Committee drew up a fun evening at The Revaire including a seated dinner for 275 guests, silent auction featuring works from 19 artists, a visit from art cars, raptor experience, stilt walkers, and more colorful fun, all in the name of raising awareness and funds to protect local habitat for birds and wildlife and create equitable opportunities for people to enjoy nature-based experiences.
The evening keynote was delivered by nationally-acclaimed artist, Dixie Friend Gay, who is best known for her numerous public art commissions, including those at George Bush Intercontinental Airport, the Port of Miami, Indianapolis International Airport, City of Brea, California, and Texas A&M Galveston. Dixie shared more about how birds and native plants have inspired her work through the decades.  Featured artists in the silent auction included Karin Broker, Cory Willingham, Janice Freeman, Liz Conces Spencer, Tara Conley, Ken Mazzu, Ann Stautberg, Sam Steph, Marlo Saucedo, Frank X Tolbert 2, and others.
Over $350,000 was raised to support Houston's work to conserve wildlife and natural resources with a positive local, regional, and global impact through sanctuary and habitat management, environmental education, and conservation advocacy.
For more information contact Aimee Friend at afriend@houstonaudubon.org.
Photo: Dixie Friend Gay and Isabelle Scurry Chapman