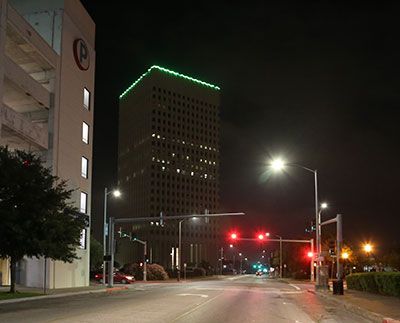 Following last week's bird kill, which resulted in significant public concern, American National Insurance Company took a step it had never taken before. The exterior building flood lights were turned off last night in an effort to support birds during their vulnerable spring voyage back to their nesting grounds in the north.
Individuals from American National were distraught by the incident and wanted to take action. American National plans to take a leadership role to increase the recognition of the value of birds to the Galveston area and to implement methods that decrease threats to birds in the community, particularly during spring migration.
Bruce LePard, Senior Vice President & Chief Human Resources Officer of American National, provided an update. "Since the building's 45 year existence, no one could recall anything like this having occurred. But sometimes a tragedy can have a silver lining. After contacting Houston Audubon, we determined the first thing to do was to make the building less of an attraction to migrating birds. So we shut the lights off! It is a little strange to see the building in the dark after so many years of having it illuminated, but it is the right thing to do. If it saves a bird, it's worth it!"
Last Thursday, May 4, 2017, the American National Insurance Company headquarters in Galveston, Texas, was the site of a large bird kill due to a mixture of lighting and weather conditions. 395 migratory birds were killed. The salvaged birds will be added to the research and education collections at Texas A&M University and Louisiana State University's Museum of Natural Science.
"Houston Audubon has remained focused on solutions during this incident. Community efforts like those of American National are instrumental in turning tragic incidents into positive change for birds," says Helen Drummond, Executive Director of Houston Audubon.
Local partners in the response include Artist Boat, Galveston Bay Injured Birds Response Team, Galveston County Audubon Group, Galveston Island Nature Tourism Council, Josh Henderson of Animal Services with Galveston Police Department, Wildlife Center of Texas, and others.
News articles in the international and local press.
Houston Chronicle initial report of the event
Houston Chronicle follow-up about community action
Galveston County, The Daily News
Additional information about this topic can be found in these links.
American Bird Conservancy's Solutions to Collisions