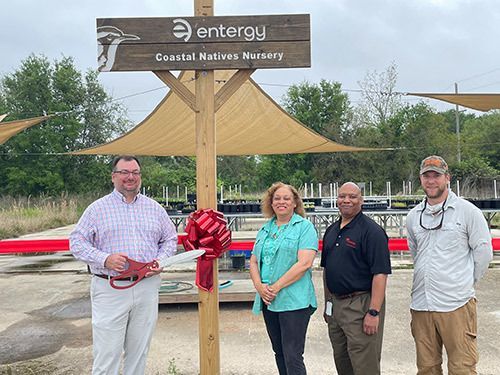 Houston Audubon is excited to announce that the new Entergy Coastal Natives Nursery at the Hulsey Coastal Operations Center in High Island is operational, with a ribbon-cutting ceremony held on April 12, 2022.  Houston Audubon was awarded an environmental grant from Entergy Texas to build the new nursery, which will provide greater availability and access to native plants critical to birds, bugs, and other native wildlife. Specifically, Houston Audubon will be able to increase its native plant nursery capacity for plant distribution to individuals and organizations in the Gulf Coast region.
"Entergy Texas is proud to partner with Houston Audubon to help to protect our natural environment in southeast Texas for generations to come," said Ron Fletcher, customer service manager for Entergy Texas. "Conserving the vibrant natural resources in our region is one of the many ways we power life for our customers and communities."
Houston Audubon has become a recognized leader in providing native plants to local organizations and residents in Houston. Its original Natives Nursery, located at the Edith L. Moore Nature Sanctuary in west Houston, was started over 10 years ago and sells and donates approximately 10,000 plants per year.  Through the new Entergy Coastal Natives Nursery, Houston Audubon will have the capacity to double its output of native plants, designate a large space for growing green milkweed critical for the declining monarch butterfly, and begin growing native trees.
Increasing the number of native plants in High Island will significantly benefit the millions of birds that make the 600-mile, 18-22-hour migration across the Gulf of Mexico from the Yucatan Peninsula in spring. These native plants provide the food and shelter they need to rest, refuel, and continue on their journey north. Houston Audubon is a regional leader in restoration efforts and works diligently to keep its coastal sanctuaries well stocked with native plants, water, and shelter for birds to rejuvenate during their very long journey.