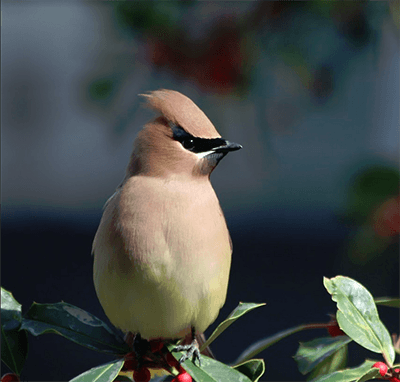 Houston Audubon is pleased to announce the winners of the first ever Flock Together Photo Contest! Thank you so much to everyone who participated. There were some wonderful submissions, which made selecting winners very difficult. Congratulations to the winning photographers! You can learn more about the photo contest here.
Photo: Winning Photo for People's Choice Award by Gokul Natarajan
People's Choice Award - Gokul Natarajan
Bird Fails and Funnies - Brenda Lightfoot
"I am honored to be selected as the winner of the Bird Fails & Funnies category for Houston Audubon's first ever Flock Together Photo Contest.  Being a member of Houston Audubon for the past 20+ years established the foundation of my birding experience and I credit/blame birdwatching for a significant portion of my increasing interest in photography.  Having migratory wild birds such as the Cedar Waxwing make an appearance is the equivalent of the ornithological Good Housekeeping seal of approval for our backyard, but having them stick around long enough for a photo op is the feather in my cap!"
Bird Friendly Communities - Denny Fahey
"Holy cow, I never expected to win!  I was hoping for an honorable mention at best; I know I was up against some really good photographers out there.  This is both humbling and a great thrill.  I have to thank my girlfriend Karen for encouraging me to enter - and I guess I'd best take her out to dinner!  Thanks also so much to Houston Audubon for the work y'all do in making sure we have such wonderful places to visit and enjoy."
Bird of Houston - Kathy Sparks
"Wow, can't believe that I won. It feels great and I need to thank my friends that encouraged me to enter."
Birds in Flight - Liang Sun
"The pandemic gave everyone a hard time in the past year. We cannot visit every birding hotspot with friends as we used to. Many thanks to Houston Audubon to give me the chance to share my birding photos!"
Birds of All Feathers - Kai Chase 
"I am very happy and honored to win the Birds of All Feathers category. For me, birding and photography have been the highlights of the pandemic, and I'm thrilled to be able to share my picture. Happy birding y'all!"
Small in Frame - Karl Hoeffner
"I've only recently fallen in love with photographing birds.  Having the judges choose my picture helps validate the time, effort and persistence I've put into improving my bird photography skills. Thanks!"