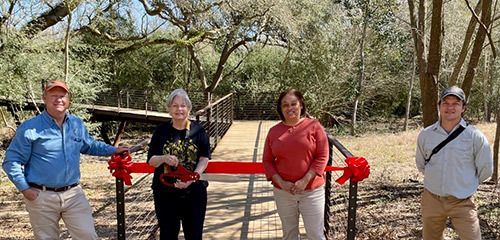 3/8/2021- High Island, TX- Houston Audubon along with Mrs. Kathrine McGovern officially opened the highly anticipated canopy walkway at Smith Oaks Bird Sanctuary in High Island with a ribbon cutting ceremony on Thursday, March 04, 2021. The Kathrine G. McGovern Canopy Walkway, an elevated viewing experience through the forest canopy and sub-canopy, is designed to complement the natural backdrop and setting of the sanctuary and is now open to the public.
The 700 feet of boardwalk with a handicap-accessible entrance ramp meanders through the sanctuary through premium birding areas, and reaches up to 17 feet into the treetops. The immersive experience includes an overlook at Smith Pond and at the Clay Bottom Pond Rookery which is already a crowd pleaser for both intense birders, wildlife photographers and for casual tourists, who are thrilled to see an up-close view of migratory and resident birds resting and nesting.
"With this project, Houston Audubon wanted to create a memorable immersive experience that makes the incredible world of birds more accessible to all," said Helen Drummond, Executive Director of Houston Audubon. "Because of Mrs. McGovern's generous support and a dedicated group of design professionals committed to the vision, visitors can now learn more about the incredible journeys of migratory birds and the dramatic display of hundreds of nesting egrets, herons, spoonbills, and cormorants from an exciting and unique vantage point."
The opening of the Kathrine G. McGovern Canopy Walkway coincides with the beginning of spring bird migration when migratory birds from South and Central America fly nonstop for more than 600 miles and stop at our coastal sanctuaries to rest and refuel.
"We are delighted to be able to sponsor the Kathrine G. McGovern Canopy Walkway at this beautiful sanctuary," said Kathrine McGovern. "It is for the birds and the people who enjoy them."
Houston Audubon is grateful to Mrs. McGovern and The John P. McGovern Foundation for the generous funding of the canopy walkway and to the Jacob and Terese Hershey Foundation for the generous funding for the interpretive walkway panels. The canopy walkway was designed by SWA Group.
Visitors are welcome at Houston Audubon's High Island sanctuaries every day of the week from dawn to dusk.  Admission fee is $8 per person and can be paid at the welcome kiosk open from March 26-May 2.  To plan your next trip to Houston Audubon's High Island sanctuaries, visit https://houstonaudubon.org/sanctuaries/high-island/
Houston Audubon's mission is to advance the conservation of birds and positively impact their supporting environments which it accomplishes through acquiring and maintaining critical habitat as bird sanctuaries, providing education programs and nature experiences for children and adults, and advocating policy and management actions in support of the mission. Houston Audubon owns and manages 17 nature sanctuaries encompassing 4,121 acres across the Greater Houston and Galveston regions and became an Accredited Land Trust in 2017.
Video of canopy
Contact: media@houstonaudubon.org
Photo: Sam Smith (President), Kathrine McGovern, Helen Drummond (Executive Director), Richard Gibbons (Conservation Director)