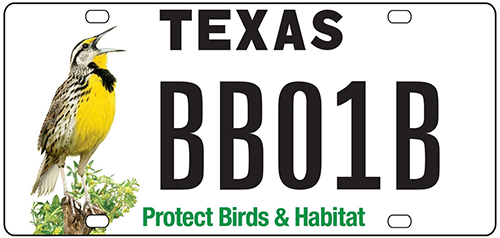 HOUSTON, TX – June 23, 2021 – Houston Audubon is pleased to announce the launch of its new conservation license plate which will raise money to protect birds and their habitat. The plate is sponsored by Texas Parks and Wildlife Department (TPWD) and can be put on Texas-registered vehicles, trailers and motorcycles.
The new license plate highlights the Eastern Meadowlark standing tall and belting out its melodious song. This image was inspired by a photograph taken by bird photographer Alan Murphy from a sighting in Galveston, Texas. The Eastern Meadowlark, an iconic prairie species commonly found throughout Texas, was chosen by a committee of bird enthusiasts.
"With native grasslands diminishing, the species needs conservation action and the habitat is one that Houston Audubon is deeply committed to restoring," said Dr. Richard Gibbons, Conservation Director for Houston Audubon and committee member.
Houston Audubon will be the 10th non-profit conservation license plate sponsored by Texas Parks and Wildlife Department. "We know the Eastern Meadowlark and the license plate tagline, 'Protect Birds and Habitat' will have broad appeal to many bird, nature, and conservation enthusiasts across the great state of Texas," said Janis Johnson, Conservation Plate Marketing Specialist at TPWD.
For each $30 plate fee collected, $22 goes to Houston Audubon and $8 to the Texas Department of Motor Vehicles for manufacturing costs. Funds raised from the sale of these plates will support Houston Audubon's mission of bird conservation and serve as a wonderful outreach and education tool to raise awareness about the importance of protecting birds and their habitat.  The license plate is available for purchase as of June 21, 2021.  For more information on how to order, visit houstonaudubon.org/licenseplate.
A special thank you to our lead sponsors, Heather and Bob Westendarp, and to our supporting sponsors Joni Shereda and Brian McKenna, and Don Quaintance. We gratefully appreciate Don Quaintance for his graphic design work and Alan Murphy for his inspirational bird photography.
Established in 1969 as an autonomous, self-supporting chapter of the National Audubon Society, Houston Audubon's mission is to advance the conservation of birds and positively impact their supporting environments, which it accomplishes through acquiring and maintaining critical habitat as bird sanctuaries, providing education programs and nature experiences, and advocating policy and management actions in support of the mission. Houston Audubon owns and manages 17 nature sanctuaries encompassing 4,121 acres across the Greater Houston and Galveston regions and became an Accredited Land Trust in 2017.                                 
Contact: media@houstonaudubon.org