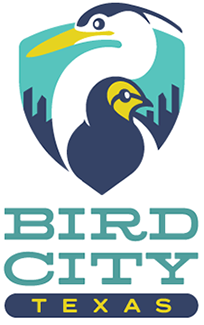 You may have heard the great news—Houston is one of the first four cities to receive the Bird City Texas designation.  But what does this mean for the city, for Houstonians, and for the wildlife that also calls Houston home?

This designation demonstrates that our community cares about birds, habitat, and conservation.  To receive the Bird City designation, applicants were required to describe what actions they have taken to support birds and wildlife in their cities.  Each selected city had to have fulfilled a certain number of requirements from different categories to be considered.  Each city then had to outline a plan to expand their efforts in these categories to better protect birds, educate the public, and restore habitat within their individual urban environments. 

The growing popularity of planting native plants, restoring prairies, and bird-friendly education programs were among the many other efforts that helped Houston receive this inaugural designation.  Houston committed to expanding our bird-friendly efforts in a number of different ways, from habitat restoration to increased advocacy and outreach. 

Here are some events and activities you can expect to see over the course of the 3-year Bird City certification period:

More bird surveys and chances to get outside to connect with nature:  Houston Audubon and our partners already host 12 monthly urban bird surveys, but we aren't stopping there.  Our newest survey will be held at Mercer Botanic Garden on the fourth Thursday of each month.  These surveys not only serve as an opportunity to get people outside and birding, but our survey leaders also enter their data into eBird. This data can be used to track changes in our bird populations and inform conservation decisions.
 
More bird-related educational content:  The City of Houston has access to a number of excellent bird-related educational materials.  Gary Clark writes a weekly nature column for the Houston Chronicle that regularly includes birds.  Houston Audubon posts our weekly "Beak of the Week" and "Fun Fact" on our social media channels and website.  But, being a new Bird City, we want to expand our initiatives.  Already, Houston Audubon has launched the new Houston Audublog, and has friends and partners writing bird-related articles.  New outreach and educational initiatives will be coming over the next 3 years, so be ready for more birds in your life!

Expansion of our Lights Out for Birds program:  Houston has been one of the leaders for the Lights Out for Birds movement nationwide.  Now, thanks to a partnership with the Cornell Lab of Ornithology, we will be able to expand the program.  This includes implementing bird collision monitoring and working with the city to get more buildings to turn their lights out at night during spring and fall migrations.  If you're ready to join in, either as an individual or for your company, take the Lights Out for Birds pledge on the Houston Audubon website.

Thanks to so much work from our partners and the City of Houston, we can capitalize on our new Bird City Texas designation and continue to make Houston a truly wonderful place for birds to live and humans to enjoy.