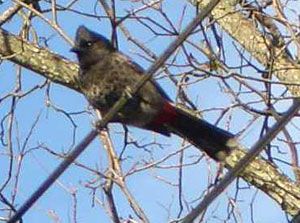 The Red-vented Bulbul surveys in conjunction with Houston Audubon Society's Citizen Science projects have been successful in helping to build a case to add the species to the official Texas bird list. It was added officially this spring thanks to the efforts of Mike Austin, David Bradford, and Stephan Lorenz who petitioned the Texas Bird Record Committee. Their successful petition included much of the data from our surveys.
We are still trying to access the resilience of the species following the severe freeze of February 2021 and are curious to see if an additional survey year will smooth some of the statistics. An additional year of survey data will help document the species response to that rare weather event.
The survey will be Saturday June 4, 2022 from 7:00 AM to 9:00 AM. We will again meet at BB's Café on White Oak at Studewood immediately after 9:00 AM to collect data sheets and talk about the survey. At BB's, we will provide coffee, water and light snacks for participants. The routes are approximately 2 miles in length and should be walked, playing calls at likely spots and recording the bulbuls you detect (what they are doing and where they are perched). You may find a nest, and we would like additional information such as tree species or behavior observed.
If you are coming from out of town hoping to add the species to your Texas list, please let us know and we will make sure you are on a survey route that has always had bulbuls. Most routes do have bulbuls annually. We are also surveying additional sites hoping to document range expansion. If you would like to participate, please email fcollins@hcp4.net We will assign you a route and send you an information packet.