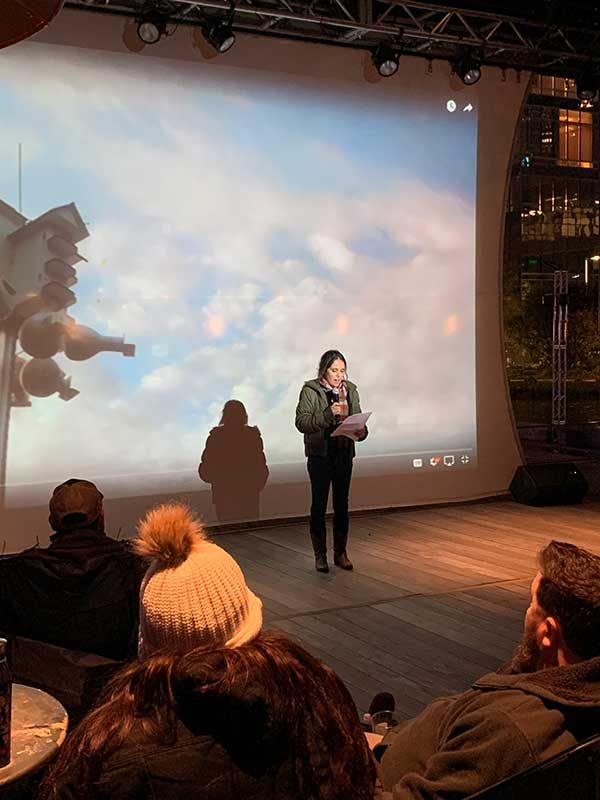 Houston Audubon and Discovery Green presented a screening of The Messenger on Friday, February 21, 2020. This event was part of the programming supporting Paloma, presented by PNC Bank, at Discovery Green. Paloma is a public art installation by French creative studio Pitaya consisting of 200 aluminum origami birds suspended from the canopy and illuminated by LED lights to create the illusion of flight. Complementing Paloma is Here and Now, a sound installation by Houston-based artist and anthropologist Lina Dib, whose work explores ecological change and global migration.  
Many people stopped by to visit with our education raptors, drink free beer by Bakfish Brewing, do crafts with their kids, win fun prizes, and talk to us about birds. Afterwards, guests warmed up on the Anheuser-Bush stage amidst heat lamps to hear firsthand from Lina Dib, who introduced The Messenger, about her inspiration and the importance of birds. The Messenger is a moving documentary about the causes of mass decline of songbirds on multiple continents and the people working to protect the birds. We enjoyed informing fellow Houstonians about birds in a fun setting, and we hope to see you at one of our upcoming events!
If you missed out, you can hear about Lina's work and the inspiration behind her art at our May 14th speaker event.