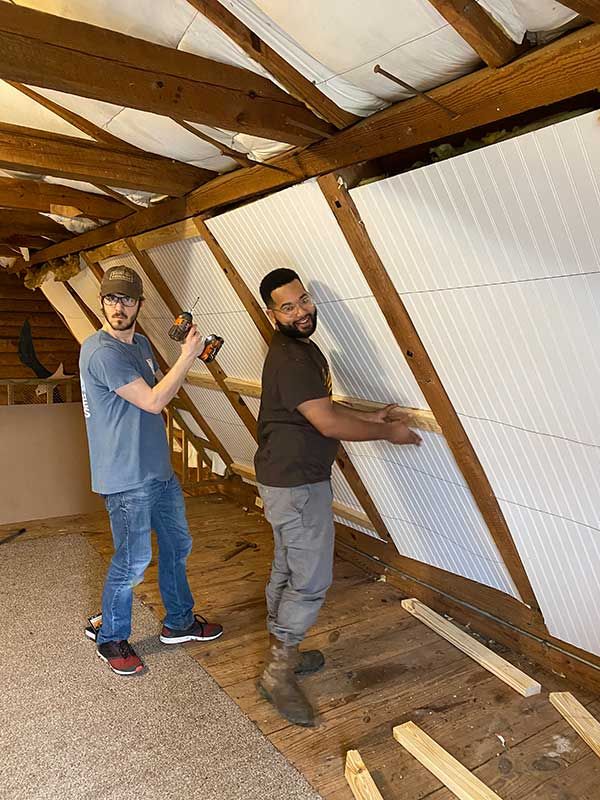 When people want to volunteer at a monthly work party with Houston Audubon they sometimes ask "What type of work do you typically do?" Our answer: no two work parties are quite alike!
 
Take our January work party at the Raptor and Education Center on Saturday, January 18, 2020, for example. Despite the light rain showers a group of six volunteers toughed it out and showed up ready for whatever was thrown at them. Led by Sanctuary Steward Trey Morris, they started the day pulling invasive plants to restore the forest. After that the work consisted of carpentry (replacing rotting planks on the cabin and pond decks and repairing the roof in the education barn), and believe it or not, arts and crafts! The younger volunteers had a great time pre-cutting supplies in preparation for future events. 
 
Because of the efforts of volunteers we're able to accomplish so much more than our small staff ever could on it's own. The work listed above was accomplished in only 3 hours! The improvements in the forest at the Raptor and Education Center are noticeable after several months of volunteers coming and rolling up their sleeves with us at our work parties. As individual conservationists we can sometimes become overwhelmed with the scale of the challenges we face, but our volunteer days show us that when we get a good group together we really can make a difference.
 
You might still be wondering what a "typical" volunteer day consists of. Well, at other work parties in the past we have built bird enclosures, painted murals, planted trees and flowers, groomed the trails and more. So, there's really not a "typical" volunteer day, but the two things we can guarantee for our volunteers are that they will have a fun time and will be making a huge difference for birds and nature.