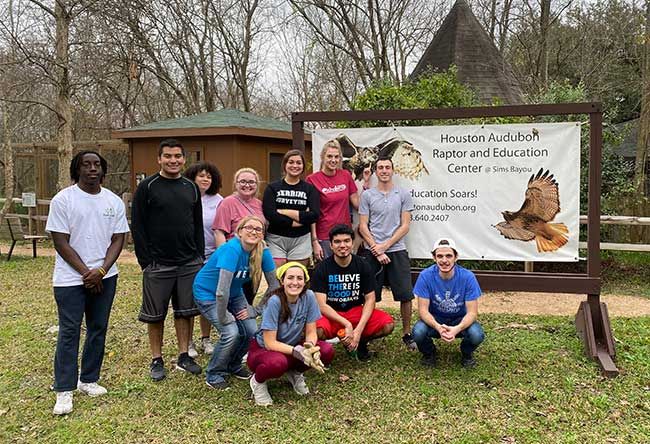 LinC-Bonner Scholars from Washburn University in Topeka, Kansas came to Houston for their annual service trip. Last year they travelled to New Orleans to build houses. This year they selected our city, volunteering at the Food Bank, a homeless shelter and spent two days (January 10 and 11, 2020) supporting Houston Audubon. The LinC-Bonner Scholars program enhances academic learning while improving the community. 
On their first day of work, the group of eleven students worked hard at the Houston Audubon Raptor and Education Center. Not only did they finish rebuilding a trail, they also completed the building of a new boardwalk by securing new handrails, cleaned out the education barn and helped with clearing some brush in the forest. The following day, the volunteers drove to Smith Oaks Bird Sanctuary in High Island. They worked crazy hard on picking up trash that had been deposited from the past couple of storms and hurricanes. It was a large area that has needed attention for quite some time. They rolled up their sleeves and got to work, and weren't afraid of getting muddy or dealing with bites from fire ants and mosquitoes.
Houston Audubon, the birds and all our upcoming spring visitors want to thank them all for their hard work and dedication. Their efforts will not go unnoticed.  
For more information about the LinC-Bonner Scholars "Learning in the Community" program, please visit their website.
If your school, community group or corporation is interested in completing a service project with Houston Audubon, please complete this group volunteer application.