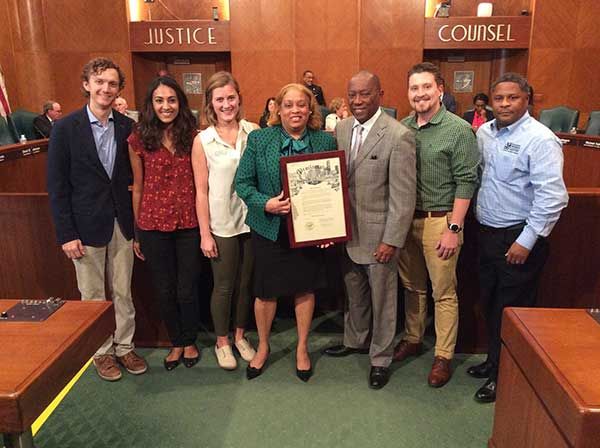 FOR IMMEDIATE RELEASE
Houston Mayor and Houston Audubon Executive Announce the Bird of Houston
9/24/2019 – Houston, TX – Houston Mayor Sylvester Turner alongside Houston Audubon's Executive Director, Helen Drummond, proclaimed the Yellow-crowned Night-Heron as the official Bird of Houston. In an effort to increase awareness of the birds around us, Houston Audubon coordinated the Bird of Houston contest, where Houstonians voted on their favorite local bird through a series of bracket rounds. Over 60 bird species were originally nominated, leading to the final round which pitted the Attwater's Prairie-Chicken against the Yellow-crowned Night-Heron.
"The Yellow-crowned Night Heron is an excellent species to represent the Bayou City. This bird is found in Houston year-round, with higher numbers present from March to October," said Drummond. "Houstonians can see this striking bird foraging along the bayous, in our salt marshes, and even along roadways, hunting for crawfish and other crustaceans. This species even breeds and raises its young in Houston, with nesting sites scattered across the city, instilling neighborhood pride for those fortunate enough to have large rookeries present."
Houston's location on the central flyway is a vital stopover for migratory birds and a welcoming, year-round, home to our resident bird. Not only do birds need our city to thrive, but Houston needs a healthy bird population. Birds are essential to human welfare thanks to the many ecosystem services they provide, from pollination and pest-control, to clean-up and seed dispersal. A representative Bird of Houston is just the thing to connect our residents to their avian neighbors.
The Bird of Houston announcement coincides with the Houston Bird Week celebration from September 21-28, in honor of Houston Audubon's 50th anniversary. Houston Audubon's Young Professionals Advisory Council in collaboration with local conservation partners have created educational, fun and celebratory events across the Houston metro area for the whole family. To view the calendar of events, visit https://houstonaudubon.org/birdweek.
Established in 1969 as an autonomous, self-supporting chapter of the National Audubon Society, Houston Audubon's mission is to advance the conservation of birds and positively impact their supporting environments, which it accomplishes through acquiring and maintaining critical habitat as bird sanctuaries, providing education programs and nature experiences for children and adults, and advocating policy and management actions in support of the mission. Houston Audubon owns and manages 17 nature sanctuaries encompassing 3,400 acres across the Greater Houston and Galveston regions and became an Accredited Land Trust in 2017.
END
People in the photo left to right:
Stuart Nelson (YPAC), Zineera Seth, Anna Vallery, Helen Drummond, Mayor Sylvester Turner, Wes Gapp (YPAC), Chris Carroll (HPARD)
The Mayor's proclamation:
Bird of Houston
Houston Audubon has been protecting and promoting birds in the Houston Gulf Coast region for 50 years, with efforts such as habitat protection and restoration, education programs, recreational activities and bird monitoring programs.
 
Houston's location on the central flyway makes it a vital stopover for migratory birds and a welcoming, year-round home to our resident birds. Not only do birds rely on the critical habitat found throughout Houston, but the many ecosystem services birds provide are essential to human welfare, from pollination and pest-control to clean-up and seed dispersal.  
 
To increase awareness of the birds around us, Houston Audubon coordinated the Bird of Houston contest, where Houstonians voted on their favorite bird. Out of 60 species that were nominated, Houstonians selected the Yellow-crowned Night-Heron, a bird found in Houston year-round, with higher numbers present from March to October.
 
On September 24, 2019, the Yellow-crowned Night-Heron will be designated as the official bird of Houston and will serve as a symbol that will help to connect our residents to their avian neighbors. The City of Houston commends the Houston Audubon, now in its 50th year, for leading this effort to select the Yellow-crowned Night-Heron as the official bird while raising awareness to the hundreds of bird species that reside in and migrate through the city each year.  
 
Therefore, I, Sylvester Turner, Mayor of the City of Houston, hereby proclaim September 24, 2019, as  
Bird of Houston Day