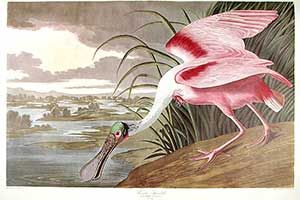 F. Carrington Weems Donates Authentic John James Audubon Prints to Houston Audubon
With the generous donation from F. Carrington Weems, Houston Audubon held an online auction featuring 350 Audubon Amsterdam Edition prints from John James Audubon's Birds of America. The online auction took place at the end of May, and was so popular, it was extended an additional week. Appreciatively, Houston Audubon sold 311 prints and raised over $20,000.
These exquisite prints were donated by F. Carrington Weems—retired commercial real estate developer, museum builder, antique map & maritime collector, and good friend to Houston Audubon. An avid supporter of the arts community and a native Houstonian, Mr. Weems wanted to share his collection with others.
The prints were donated in honor of his lifelong friend, Caroline Staub Callery who has been a zealous supporter of the birds and Houston Audubon for over 38 years. Caroline was on the Houston Audubon Board of Directors for five years; and to this day, stays active on the Development Committee and the Board of Advisors.
Because of Mr. Weems' overwhelming generosity, many Houston Audubon members and friends are now proud owners of John James Audubon authentic prints.
If you were unable to participate in the auction, you will have one final chance to own your own John James Audubon Amsterdam print. Two framed prints will be auctioned during our Golden Anniversary Gala in October.