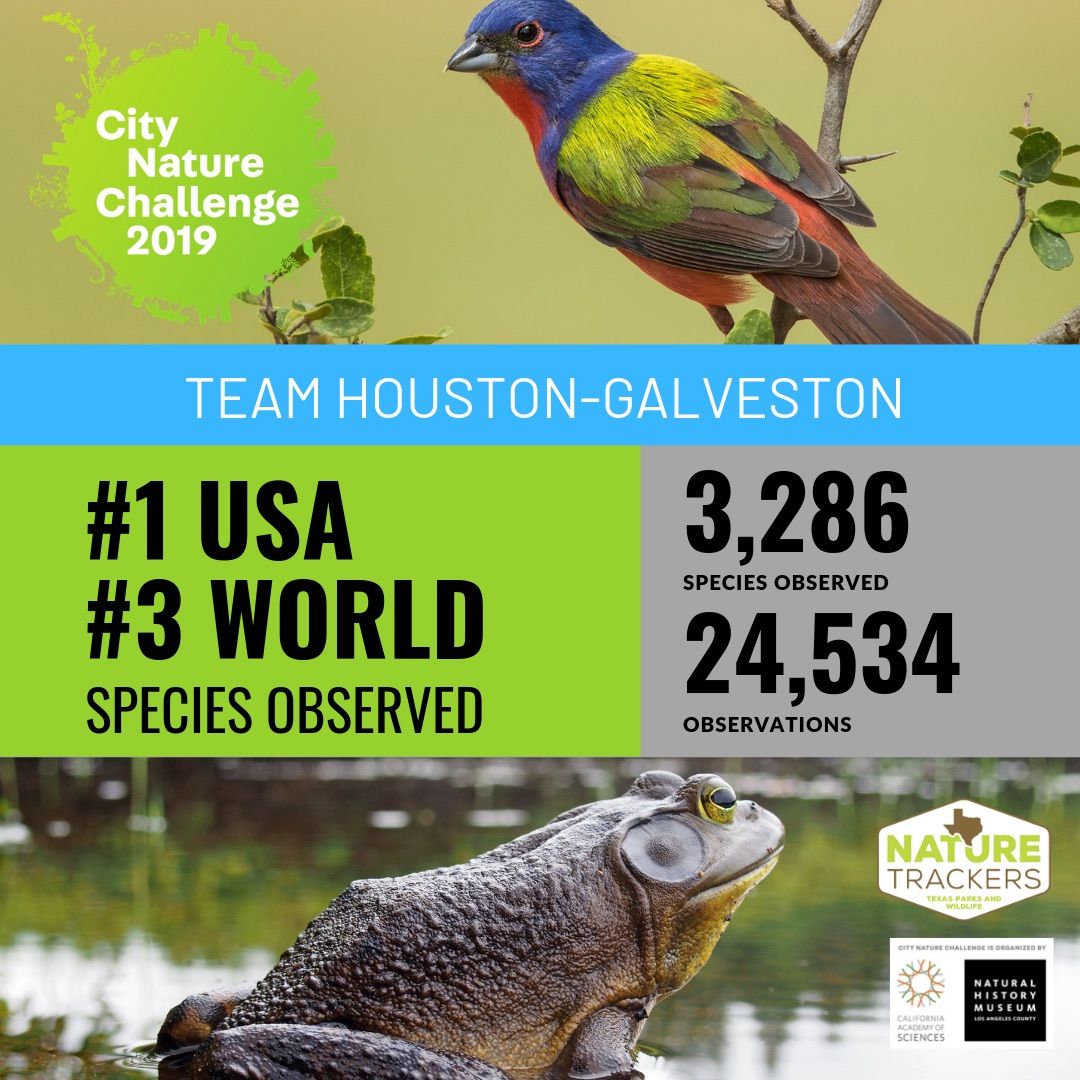 FOR IMMEDIATE RELEASE
Houston Places First in the US and Third Globally for Species Diversity During the Annual Global City Nature Challenge
5/13/2019– Houston, TX – Citizen Scientists in The Greater Houston and Galveston area competed in the Third Annual City Nature Challenge and won first place in the United States for most species identified during April 26-29, 2019.  The Houston participants identified 3,367 species of flora and fauna from backyards to city parks to wildlife refuges and sanctuaries. The city took third place globally with Cape Town and Hong Kong coming in first and second respectively. 
"The Houston-Galveston region is truly unbeatable because of our unique mix of habitat including urban prairie remnants, forested bayous, and coastal wetlands," said Sarah Flournoy, Bird-Friendly Communities Program Manager at Houston Audubon. "The City Nature Challenge is the perfect opportunity for people of all ages to connect to nature close to home and to celebrate the wild spaces that are so vital in our dense urban environment."
During the City Nature Challenge, cities around the world compete to see which urban area has the most nature and the most engaged residents by posting observations on iNaturalist, an online Citizen Science effort to document species. This year's City Nature Challenge included 159 cities around the world with almost one million observations recorded. 
"Our rich local ecosystems are certainly underrecognized strengths that help us mitigate flooding, cool the city, and provide many health benefits to our residents. The City Nature Challenge results show that we in the Houston-Galveston region have world class natural richness that is worth protecting and enhancing," said Jaime González, Houston Urban Conservation Programs Manager at The Nature Conservancy in Texas.
"With a newly released United Nations report signaling that over a million species are at threat of extinction, it's important to track local species and monitor them over time," states González. "The City Nature Challenge is a great event to spotlight the amazing diversity of wildlife, plants, and ecosystem of the Houston-Galveston region and work together to protect these natural treasures for our kids and grandkids."
898 people in the Houston-Galveston area contributed to this year's Challenge. Eric Keith of Raven Environmental Services, Inc. and Andy Newman of Resource Environmental Solutions, LLC were the top local observers. The top species observed was the beautiful wildflower Oenothera speciosa, also known locally as Pinkladies or Buttercup.
The Houston City Nature Challenge is organized by Houston Audubon, The Nature Conservancy in Texas, and Texas Parks and Wildlife. To view 2019 results, click on http://citynaturechallenge.org/.
Established in 1969 as an autonomous, self-supporting chapter of the National Audubon Society, Houston Audubon Society's mission is to advance the conservation of birds and positively impact their supporting environments which it accomplishes through acquiring and maintaining critical habitat as bird sanctuaries, providing education programs and nature experiences for children and adults, and advocating policy and management actions in support of the mission. Houston Audubon owns and manages 17 nature sanctuaries encompassing 3,400 acres across the Greater Houston and Galveston regions and became an Accredited Land Trust in 2017. To learn more, visit houstonaudubon.org.
The Nature Conservancy is a global conservation organization dedicated to conserving the lands and waters on which all life depends. Guided by science, we create innovative, on-the-ground solutions to our world's toughest challenges so that nature and people can thrive together. We are tackling climate change, conserving lands, waters and oceans at an unprecedented scale, providing food and water sustainably and helping make cities more sustainable. Working in 72 countries, we use a collaborative approach that engages local communities, governments, the private sector, and other partners. To learn more, visit www.nature.org or follow @nature_press on Twitter.
END