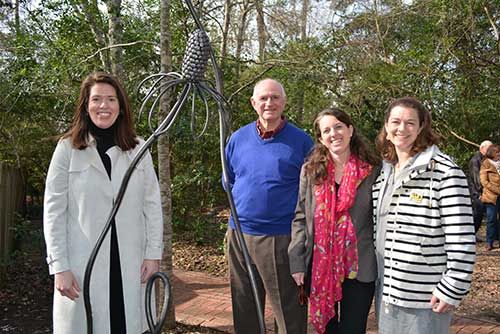 Over 75 people attended the unveiling ceremony for the sculpture honoring the memory of Flo Hannah. The event was held at the Edith L. Moore Nature Sanctuary on Friday, January 25, 2019.
Flo Hannah's commitment to habitat conservation led her to establish Houston Audubon's Natives Nursery, where prairie grasses and wildflowers are grown. Just like the prairies she loved, Flo was a rare human being whose passion and vision were matched with humor and the real-deal work of making the world a better place. May this sculpture in Flo's memory inspire us all to continue bringing nature home, one plant at a time.
The photo shows the Hannah family standing by the sculpture. Other photos in the gallery show the Natives Nursery volunteers in their distinctive yellow work aprons, sculptress Tara Conley, and the project team that helped to make this a reality.
Sarah Flournoy was the emcee for the event and Helen Drummond made the presentation.
The sculpture is a unique creation in bronze and steel by Tara Conley. It was held secret until the final moment of unveiling. People who knew Flo immediately recognized the symbolism centered around Flo's signature plant, the Texas coneflower.