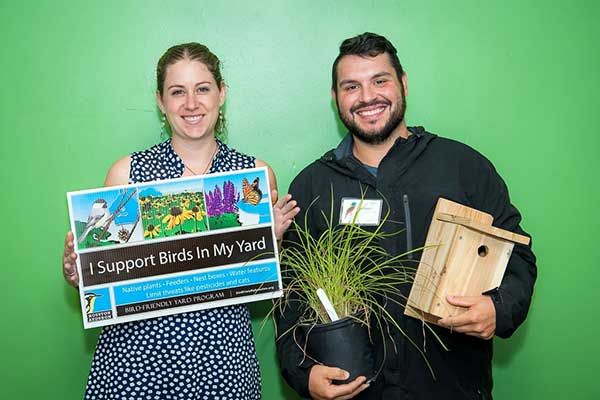 What are you doing to help birds at home? If the answer is, "not much," we are interested in understanding why. Every green space counts, from large city parks to pocket prairies to our own yards at home. Together, these pieces can add up to important habitat for birds and other urban wildlife, but all too often we see our city covered in non-native plants and sterile lawns, with widespread use of pesticides and other harmful chemicals.
Houston Audubon and the Houston Zoo teamed up to create the Bird-Friendly Eco-Team, a group of 20 Zoo employees who committed to taking bird-friendly actions at home for the duration of one year. We met monthly over the last six months in an effort to uncover the benefits and barriers that are most significant to the group. Common barriers include TIME to plan and plant, financial RESOURCES to make purchases, and lack of KNOWLEDGE about which plants are truly native and supportive of wildlife. Benefits that motivated the Eco-Team included the satisfaction of supporting migrating birds and the ability to connect family members to nature at home.  We also conducted feedback sessions on Houston Audubon's existing resources and materials, and we toured the Zoo to uncover ways the property itself can become more even supportive of local wildlife. 
These sessions were inspired by a model called Community-Based Social Marketing—the Eco-Team acts as a focus group that we can learn from in order to adjust our own programming to authentically meet the needs of a greater number of Houstonians. We know from environmental psychology that individuals may appreciate birds and want to help them, but that desire does not necessarily lead to actual action or behavior change. How can we transform Houston for the better? How can we motivate ourselves to see real change? 
We are thankful to have 20 more properties in the Houston area--ranging from small patios to larger yards--that are more fully developed to support birds with plants, water, nest boxes, and more. At the end of the year-long experiment, we will outline detailed findings from the pre and post surveys as well as the major takeaways that can help us realize more success with our Bird-Friendly Yard Program. We need new norms for Houston--where wildlife-supporting yards are celebrated and not criticized, where nature is honored and not attacked.
 
Please join the Bird-Friendly Yard Program to learn more and to be part of the solution. Every yard matters.