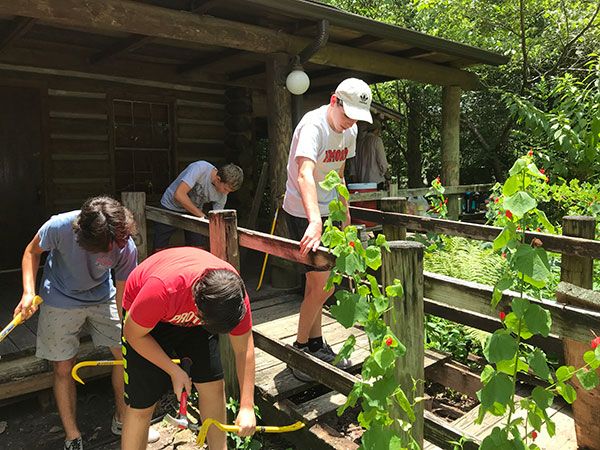 Leo Boswell, from Boy Scout Troop 652 at St. Peters Church, Long Point, replaced the steps and wheel chair ramp at the Edith L. Moore Nature Sanctuary cabin to complete his requirements for Eagle Scout. Leo, his family, and a dedicated group of 9 fellow scouts began demolition work on the project Friday, July 13 and started rebuilding on Saturday, July 14. Members of the Tuesday Trail Crew, Jack Klander, JD Carballo, and Frank Perkins, provided invaluable guidance and instruction.
All materials and costs for the new steps and ramp are covered by fundraising Leo did in addition to recruiting the other scouts. Rebuilding was finished on Sunday, July 22.
Leo and his sister Stella attended the Titmouse Club and nature camps when they were younger. They have been counselors at the nature camp for the last few years. Both are happy to give back to the Edith L. Moore Nature Sanctuary, which has been a special part of their lives for many years.
Thank you Leo and team. The steps and ramp will serves the visitors to Edith L. Moore Nature Sanctuary for many years to come.