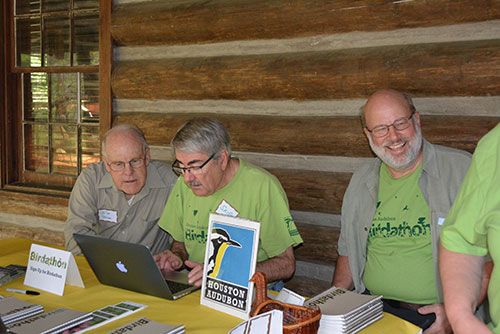 We kicked off Birdathon 2018 with a very successful and educational workshop on March 11. Since the weather was perfect, we held the workshop on the deck of Edith L. Moore Nature Sanctuary Log Cabin.
The workshop started with Cin-Ty Lee leading a class on how to use eBird on your big day. Cin-Ty did an outstanding job and everyone raved about all the new things they learned. Next up, Barbara Tilton and Sarah Flournoy blew us all away with their recipe for success in fundraising and planning your birding day. This was an amazing class and appreciated by all. Glenn Olsen closed the day out with a spectacular Birding 101 class that focused on how to identify and locate birds, general rules, and birding etiquette. Both seasoned and beginning birders commented on how much they learned during the class.
A big thank you to all of the presenters and to our Birdathon Sponsors: Heritage Texas Properties - Rebecque Demark and Nancy Scott, Wild Birds Unlimited, Abbott Contracting and Sword Plumbing.
After birding and fundraising, we hope you will join us for the Celebration Party on Sunday, May 20, 3–5 p.m., at the Edith L. Moore Nature Sanctuary Log Cabin. During the party, we will be sharing stories, photos and laughs while enjoying delicious smoothies and treats. Attendance is free and we hope teams, donors, family and friends will all come out for the event.
This year's Birdathon award categories include: Whittington Award (the most money raised), Oberholser Award (the most species identified), The Best Story (all stories will be shared at the Celebration), and Rookie of the Year (the most species identified by a new team).
Each category has a fantastic prize package and comes with bragging rights for an entire year.
Click to see a photo gallery of the event.