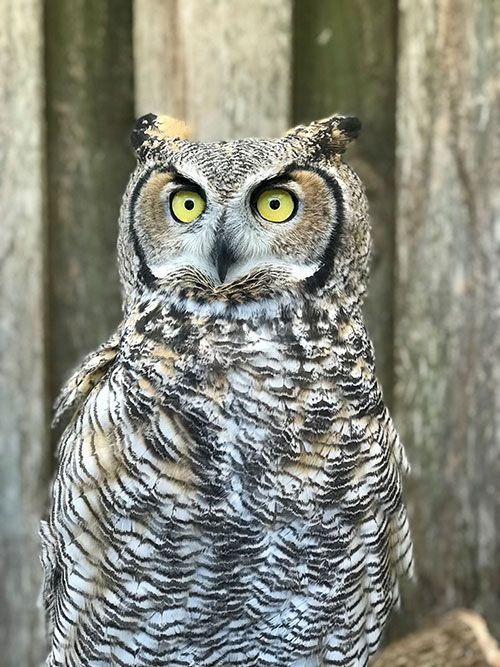 Welcome Simon!!
Simon, the Great Horned Owl, was rescued from the side of a road near Rozet, Wyoming on November 1, 2016.
She had been injured on the road for about 24 hours with a broken left leg and broken right wing.
Suzanne Hansen and her husband rescued Simon after contacting Wyoming Game and Fish. They brought Simon to Susan Ahalt at Ironside Bird Rescue in Cody, Wyoming. Mary Anne Weber, Education Director for Houston Audubon, has known Susan for over two decades and follows her rehab work through the Ironside newsletter and Facebook page.
Simon gets her name from a rescue dog of Suzanne's. This was a very special pup from Colorado. Suzanne and her husband fly a plane for Pilots N' Paws and help rescue all kinds of animals and find foster homes for dogs. Their plane is named "Simon's Flight" in his memory.
Suzanne is originally from Fort Davis, Texas, and was thrilled to find out that Houston Audubon was interested in bringing Simon the owl to Houston.
When all the paperwork was in order, Simon made her final flight to Texas. It was quite a journey due to a mix up at the airport. After many stressful hours of searching, Simon was found safe and sound in her carrier. At this point in time, Mary Anne believed Simon was a male Great Horned Owl. When she finally got him home and opened the carrier she quickly realized this was no male but a huge beautiful female Great Horned Owl.
It was a bit of a tussle to get her out of the carrier and when Simon finally emerged she let Mary Anne experience the full 500 PSI of pressure she can exert with her talons.
However, Simon, under the gentle training of Mary Anne, was immediately feeling at home and comfortable in her new surroundings. She has made several appearances at schools and for owl prowls, has received her West Nile Virus inoculations and has a bright and long future ahead.
You can help support the continued care of all of Houston Audubon's education raptors through our adoption program available on our website. Simon appreciates all the hoots coming her way!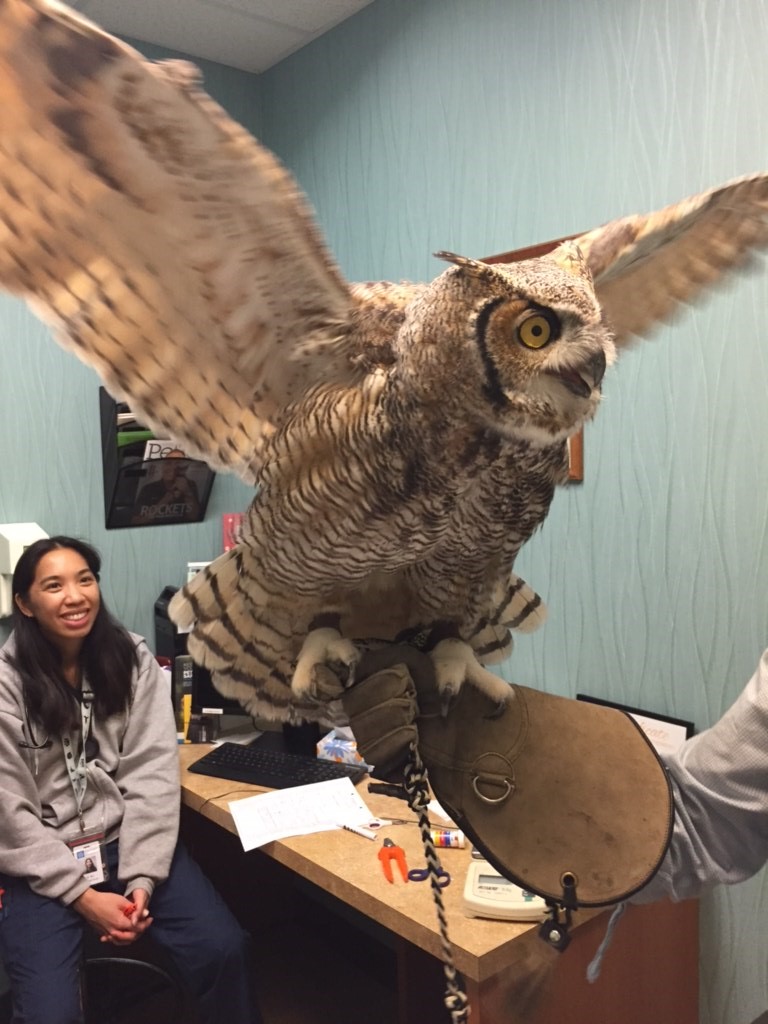 Simon at the doctor's office getting vaccinated.