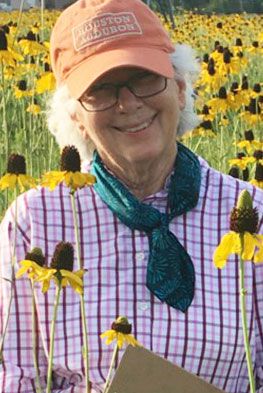 I am excited to announce that Flo Hannah, Houston Audubon's native plant expert, is being honored by the prairie conservation community on Wednesday, November 29, 2017. The award will be given as part of the Prairie Stampede Celebration and Holiday Dinner hosted by the Coastal Prairie Partnership and the Houston Chapter of the Natives Prairie Association of Texas. Flo will be receiving the career achievement award.
The dinner is from 6:30 pm to 8:30 pm at the Cherie Flores Garden Pavilion at Hermann Park.
Watch a video of the award presentation. The speaker is Jaime González of Katy Prairie Conservancy.